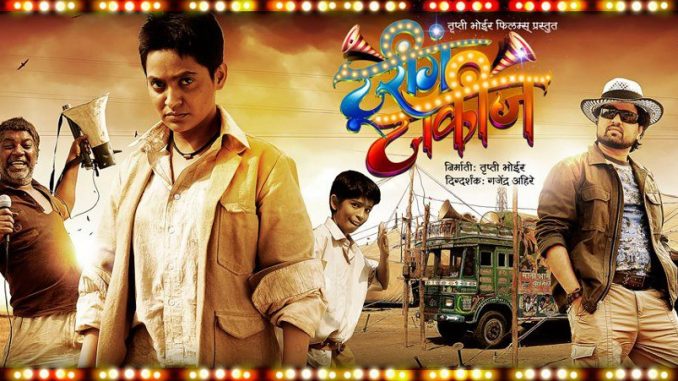 Movie Review
Touring Talkies
Cast: Trupti Bhoir, Kishore Kadam, Subhodh Bhave
Directed by: Gajendra Ahire
Concept by: Trupti Bhoir (?)
Review by: Faisal Saif
Ratings: *
Before i start to review this film, I would like to explain you about the term "Touring Talkies". The film screenings which takes place inside tents (A Cinema which can be assembled at any given time), This cinema is also slowly dying especially in Maharshtra (India) where it usually takes place during Maharashtra Pilgrimage every six months. These cinemas exists in West too, There they are called "Road Cinema".
Chandi's (Trupti Bhoir) touring talkies is one of the rare ones still surviving in Maharashtra. She and her brother Babya (Chinmay Sant) take great pride in showing films in their tent, which has been their family business since decades. Now their business is threatened due to some foolishness by Chandi's drunkard father Babu (Suhas Palshikar). Chandi sees a ray of hope when filmmaker Avinash (Subodh Bhave) arrives in their locality to screen his Art-Film in the tents. Till here (18 Minutes of the movie), The film runs on an excellent phase which made me really excited. But what came later was an unbelievable shocking experience for me especially from Marathi Cinema's most respected director and actors (Except Trupti Bhoir).
Chandi always terms Avinash as a Art Film Maker (In a sarcastic way), She makes him understand that it's only "Entertainment" that sells. In order to make Avinash's film more impact-full in the eyes of Pilgrimage-Maharashtrian cine-goers, Chandi changes Avinash's film title to a cheap title "Invisible Hand In The Blouse (Or Bra)". Is the Film maker here giving a message that Maharashtrian Cinema lovers only love films with cheap titles?
Chandi also changes the film's Posters and requests Avinash to call the film's actress for the Promotion of the film "Invisible Hand In The Blouse". Promotion? "Get 5 Tickets of the movie from the hands of the Actress". Another shock which hits right into your heart is when Babya edits Avinash's Art Film with some sleazy sex scenes to make the cinema "House Full". And Avinash being an Art Film maker appreciates Babya's editing skills.
When a question was raised about this to the Actor/Producer/Concept Writer Trupti Bhoir by me in the Film Festival, She first got nervous and tried to dodge the question by saying "What can i do if you saw only "Those Scenes" in the Film?". But "Those Scenes" displayed how Touring Talkies cinema owners and exhibitors kill and rape a film in front of the eyes of a Film Maker who believes in Artistic Cinema and the same "Helpless" Art Film maker do nothing about it but bends down. "Those Scenes" also portray Touring Talkies showing sleazy films to fill in their seating capacity and earning fortunes. "Those Scenes" also showed Maharashtrian women coming to watch a film "Invisible Hand In The Blouse" in the greed of winning exciting prizes organized by Chandi.
And now, I have a question. It is heard that Maharshtra Government is not allowing proper support to the existing Touring Cinemas. After seeing Touring Talkies, I personally think Maharshtra Government knows what they are doing. Is this how the Maharashtrian Touring Cinema business run? On the basis of Skin Show and Sleaze Films? Gela Haath Cholit (Invisible Hand In The Blouse)?
I thought Marathi Cinema is full of Family, Value, Love and Culture. Now i understood why Touring Talkies was a wash-out all over. The Actor/Producer/Concept Writer Trupti Bhoir also agreed that no T.V.Channel has bought this film yet.
There also comes a moment in the second half when the film threatens to be a drag. The second half shows the struggle of Chandi and talks about how she was born near the Cinema Projector machine etc. But after what you have gone through in first half, I don't think we need a space for sympathizing emotions.
Speaking about the performances, Trupti Bhoir is just okay. She literally hams in emotional scenes. Kishore Kadam and Subodh Bhave are superb. Chinmay Sant who plays Babya is good. Strange! Babya wants to be a Film maker after he grows up and he is editing and mixing Porn Scenes reel inside an Art Film?
The Background Score, Camera work and Production Values are good. The Editing is jerky and very weak especially in the second hour.
Why did i see Touring Talkies? Because i read good reviews (From Marathi Publications, Of course) about the film and i really wanted to see the struggles of the owners and exhibitors of this temporary cinema "Touring Cinema" in this "Multiplex" era. The struggles and survivals was neither shown nor talked in this film sadly.
Touring Talkies according to me insults Marathi Cinema and Maharashtrian-Pilgrimage culture in a big way.