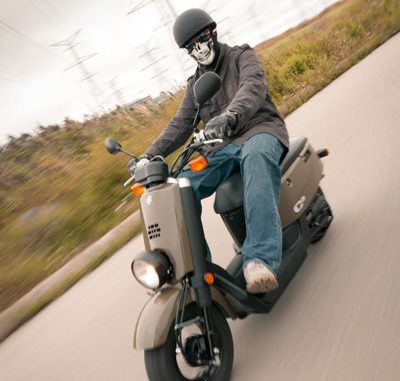 Over the next few weeks Oye Times will be adding news and reviews from the world of motorized two-wheeled transport to the site's growing content ranks. To start things off we road tested a number of small displacement scooters; we figure it's the most unintimidating way to introduce drivers to riding.
50cc – What is it?
For the benefit of the novice two-wheel enthusiast let's quickly deconstruct what the category reference 50cc means.
Scooters and motorcycles are categorized in a number of ways, one of the most common is by referring to a machines' engine size. In North America scooters today generally start at the small 50cc size and can go upwards of 600cc; whereas motorcycles begin at the 125cc engine size and can go upwards of 2100cc.
"cc" stands for Cubic Centimetres. For the automotive enthusiasts this relates to the automobile engine displacement reference as 0.1L = 100cc (i.e. a 1200cc bike would have an engine equal in displacement to a 1.2L)
If you haven't done the mental math yet, that means a 50cc scooter is the equivalent of a 0.05L car engine – to the best of my knowledge there isn't a production car on the planet with an engine that small. In comparison the smallest displacement car engine available in Canada today is a 1.0L found in the smart for two.
Until the mid-2000's G-class license holders in Ontario could hop on a 50cc scooter and ride it to their heart's content without any additional provisions to their licenses. InQuebecandAlberta50cc scooters can be ridden by licensed individuals as young as 14. In British Columbia a 50cc scooter can be ridden by anyone holding a regular driver's license.
All 50cc scooters sold today are equipped with automatic transmissions, and combined with the simple licensing provisions in certain provinces, riding one should be no more work than hopping on and twisting the throttle to go.
Who makes the 50's?
In Canada there are a number of scooter manufacturers who build 50cc scooters. Given their relative low price, ownership costs, and ease of riding most motorcycle manufacturers offer up 50cc options.
The big brand manufacturers like Yamaha and Honda both have models in this engine size. For 2011 Yamaha's got three 50cc models which include the BWs50, C3, and Vino. Honda on the other hand only has one 2011 model in 50cc capacity: the Ruckus. Some new scooter dealers still sell the 2009 model Honda Jazz which is the only other 50cc offering from Honda.
It's not possible to discuss scooters and not inevitably end up talking about Vespa. The Italian manufacturer has two offerings in the 50cc category: the sedate LX, and sportier S model. Vespa's sister company Piaggio also sells a 50cc scooter – the Fly – in Canada.
One of the fastest growing scooter brands in Canada has to be Kymco. The Taiwanese manufacturer, like Vespa, focuses almost exclusively on scooters. Look at Kymco's lineup and it quickly becomes apparent that there are more scooter choices and offerings here than with any other manufacturer. Kymco, in its broad range offers the Super 8, Sento, Vitality, and People S in 50cc configuration.
In addition to the manufacturers named above, there are a number of other smaller, less known scooter brands on sale in Canada. In the interest of focusing on just the better established brands, we won't be exploring the others at this time.

Where can it go?
A 50cc engine isn't terribly big, although this means limited power, it also means the whole thing is light and consumes proportionally less fuel than the bigger machines.
A small displacement scooter is great for an urban environment, big cities are ideal places to own and ride scooters. In cities like Toronto you have the added bonus of being able to park anywhere – even on sidewalks – and park for free.
Depending on the 50cc scooter you ride, top speeds can vary. As a general rule of thumb, 2-stroke engines are a little faster – and produce more emissions, with lower fuel efficiency – than their 4-stroke counterparts. I've ridden a 2-stroke 50cc scooter to a top speed of 77km/h on flat road; a mighty accomplishment when you consider that my 200 lbs. weight more than doubles the weight of the scooter.
On average a 50cc scooter can manage most 60km/h speed zones, and should be able to keep up with traffic fairly comfortably. There are some exceptions to this; therefore all 50's should be checked for top speed ability before committing to using it as an extra-urban runabout.
What does it cost to ride?
Costs of a new scooter will vary from manufacturer to manufacturer, but expect one to never break the bank. A brand new 50cc scooter can cost as little as $1,500. The price range of the models discussed above can range from approximately $1,900 to $3,800.
Regardless of the manufacturer there's one thing 50cc scooters lay claim to: the lowest cost of insuring. Given the relative low speeds a 50cc scooter is capable of, and that they cost so little to buy – and consequently fix – they are rated at the very bottom of the insurance ladder.
In an effort to give you a real world example of insurance costs, I'll draw on a personal experience from a few years ago. Insuring a 250cc sport bike would have cost me – an early 20-something, male, living in the GTA, holding an M2 – about $2,800 for the year. A 50cc scooter at the same time would have cost me just $750 for the year; that's a difference of more than $2,000!
Once you've bought the scooter and insured it, you're inevitably going to make a stop at a gas station. Most scooters run better when using premium gasoline, no matter, because filling up from fume-empty costs no more than $7. Most 50cc scooters today can do upwards of 150km on a single tank. Earlier this year, I competed in a scooter rally riding a 2-stroke 50cc scooter. I rode over 650km in 17 hours and spent a total of $13 on fuel!
Hopefully this article has given you a brief but fair overview of what the world of small displacement scootering holds for you. In the coming weeks we will road test and review some of the models introduced here, so stay tuned.
Photography by Wilson Lo
Follow Kanishka Sonnadara on Twitter by clicking here