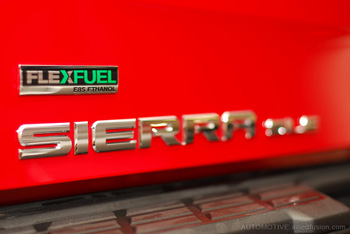 You can publish this article on your website as long as you provide a link back to this page.
This article was last updated on April 16, 2022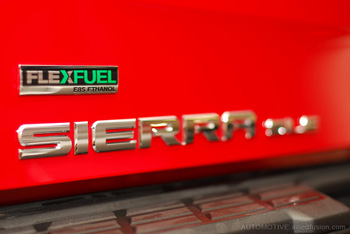 Trucks are a part of the North American landscape; whether you're in London or Los Angeles, Sherbrooke or Sacramento, Winnipeg or Wichita the pickup truck is a staple on our roads. When considering a pickup truck, there isn't a company around that can quite match the GMC lineage; a history that begins in 1901 and continues on to this day.
Classified as a full-size pickup truck, the 2012 GMC Sierra 1500 is very much a commercial grade vehicle with a near endless list of options. Whether the Sierra 1500 is being purchased for personal use or work, a buyer can be assured that they will be able to select from a wide variety of options that allows for a customized vehicle that suites almost every need.
Choice
GMC trucks are very much about choice, and there's a lot to consider when looking at the Sierra 1500.
Things start with three cab styles: regular (driver row only), extended (small bench seat behind front row), or crew (a complete second row of seats coupled with rear doors for easy access.)
Once cab style has been sorted out, buyers can opt for one of three bed lengths – GMC calls this 'box style'. A short box (1.7m) is standard on crew cab models, a standard box (1.95m) is available on regular and extended cab models, and a long box (2.4m) which can only be paired to a regular cab model.
The Sierra 1500 also offers up a choice of drive modes including 2WD, 4WD, and AWD – the latter limited to only the Denali model.

Once the major model choices have been made, GMC also offers buyers a host of utility, convenience, and even luxury options for the Sierra. Buyers can opt for everything from a heavy-duty trailering and suspension packages to power adjustable pedals to heated full leather bucket seats. The Denali package even includes woodgrain accents on the dash and a 'sport tuned' suspension.
Power
The theme of choice continues on to the Sierra's powertrain options. Power for the 2012 GMC Sierra 1500 can be derived from one of five sources – yup, there are five powertrain options for this truck! From the mighty and all powerful 6.2L V8 to the smaller 4.3L V6 there's an engine option that would satisfy all, including a 6.0L V8 Hybrid model.
| | | | | |
| --- | --- | --- | --- | --- |
| 6.2L V8 | 5.3L V8 | 4.8L V8 | 4.3L V6 | Hybrid 6.0L V8 |
| 403 hp @ 5,700rpm | 326 hp @ 5,300rpm | 302 hp @ 5,600rpm | 195 hp @ 4,600rpm | 332 hp @ 5,100rpm |
| 417 ft-lb or torque @ 4,300rpm | 348 ft-lb of torque @ 4,400rpm | 305 ft-lb of torque @ 4,600rpm | 260 ft-lb of torque @ 2,800rpm | 367 ft-lb of torque @ 4,100rpm |
All of the Sierra's engine options, except for the Hybrid and V6, are FlexFuel enabled. Which means those who want to burn something other than fossil fuels in their engines, can opt for cleaner, greener – and cheaper – E85 ethanol.

The Sierra 1500 Hybrid powerplant is one of the greatest feats of this truck. I drove the Cadillac Escalade Hybrid – which shares this exact powertrain – last year and was floored by its fuel sipping qualities. Boasting fuel economy numbers of 13.7L/100km city and 9.1L/100km hwy, the Sierra 1500 Hybrid outclasses any other truck in this segment.
My tester 1500 however wasn't a hybrid; it came equipped with a 5.3L V8. The engine features a system GM calls Active Fuel Management – where half of the engine's cylinders automatically deactivate during times of light load helping improve fuel economy – allowing for claimed fuel economy numbers of 11.6L/100km in 2WD mode and 12.1L/100km in 4WD (hwy/city combined numbers.) For me, fuel economy wasn't necessarily the highlight, power delivery was. Despite my complaints of a 4-speed automatic transmission, the Sierra's V8 always had torque on tap for play. There was even enough for a few rear-wheel burnouts and some circular vehicular fun in an empty private parking area.
Design
Form most definitely follows function with the Sierra. A design predicated on rectangles, GMC hasn't changed the design on the Sierra 1500 since the launch of its last restyle in 2007. Nothing about the design of the truck hints at frills, all the body panels and sheet metal sit side-by-side quietly, peacefully, conservatively. The design conveys a sense of subtle strength and quiet power, quite what we thought of the truck after spending some quality time with it.

There are a few nits to be picked with the interior however. As with the exterior, the interior of the 2012 Sierra 1500 remains nearly unchanged for 5 years; layout wise, this isn't much of a problem, but the tech elements now feel quite dated. Generally trucks don't receive the same constant interior upgrades cars do, but when considering the kind of interiors now available from competitors in the segment, the 2012 Sierra 1500 seems on the verge of being archaic.
Verdict
My test truck – a 2012 Sierra 1500 SLE with a few add-ons – priced in at around CDN $52,000 before taxes. For that price the truck came equipped with a full power group including a power sliding rear window and sun roof, power adjustable pedals, full leather interior, parking sensors and mirror mounted backup camera along with a host of other upgrades. Notably lacking however, was standard Bluetooth phone connectivity – a $310 add-on – and heated seats; two options I imagined would be standard for a vehicle as well equipped as mine was.
Whether for work, play, or a bit of both, the 2012 GMC Sierra 1500 ticks off all the boxes. A near endless list of choices coupled with great features and excellent build quality mean that this is a truck ready for anything you can throw at it. The absence of progressive visual upgrades over the years may make the new Sierra 1500 a bit dated, but then it looked good when it was first announced and it looks good now; so why fix something that isn't broken?

Photographs by Kanishka Sonnadara.
Kanishka Sonnadara is a member of AUTOMOTIVE.alliedfusion.com and can be found on Twitter @autoKsS.