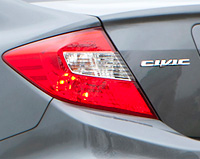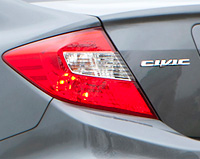 To say that Honda places emphasis on the Civic would be an understatement. Since the arrival of the 2012 model Civic midway through 2011, Honda has made a tremendous effort at marketing what is arguably Honda's brand ambassador. The new Civic, and Honda by extension, have unfortunately had their ups and downs through most of the year.
Despite fanfare by Honda, media and public reception of the new Civic was lukewarm at best. Honda's progressive upgrades to the new Civic were not received well, with Civic fans calling for more dramatic upgrades to the car in face of strong competition in the segment.
All these things however, are merely distractions from the car itself, so take a deep breath, and let's explore the car of the hour, the 2012 Honda Civic.
Exterior
Sleek and slightly bevelled front headlamps set a contemporary tone for the design of the 2012 Civic. The front facia is significantly updated from the prior generation Civic, however, the changes aren't significant enough to make the new model a whole new car; rather a more youthful cousin of the old one.
Curves and soft edges of the outgoing Civic are replaced by straight lines and sharper edges. The 2012 Civic sits a little lower and looks a little faster, even when stationary.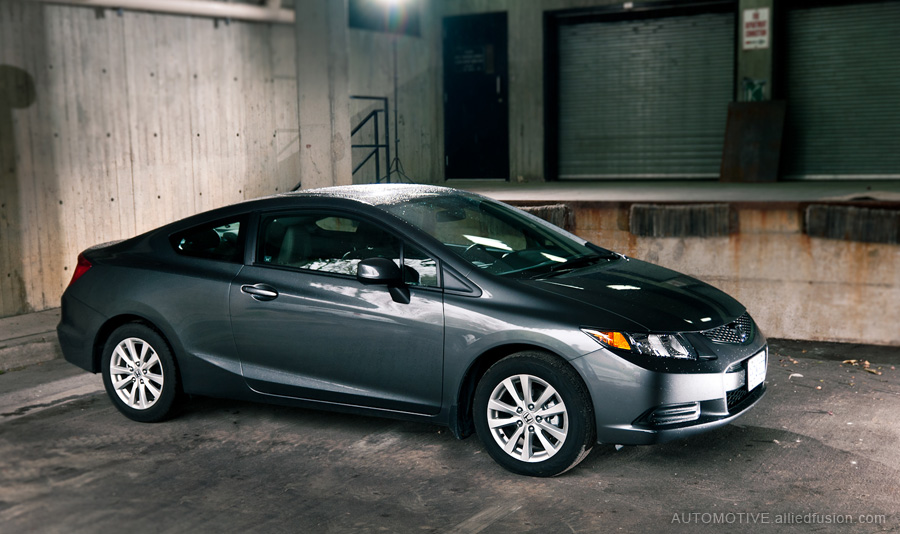 The 2012 model year Civic represents the 9th generation of the car. Although, Honda carried forward the look of the outgoing Civic – around since 2006 – the redesign is significant enough that it looks like a new car while maintaining close familial ties to the Civic of old. Definitely can't fault Honda for this approach, but personally, I would've liked to have seen this new Civic taking some design cues from the European Civic – a radical design that gets a big thumbs up from me.
The 2012 Civic is available in sedan and coupe variations with overall dimensions being about the same on both.
Interior
Car's in this market segment aren't known for their plush high quality interiors, but Honda does an outstanding job of marrying design and materials for an end product that feels better than most. You won't find ultra soft leather or inch deep shag carpet, but then that's not exactly where Honda spends their money on a Civic.
Every button, knob, and lever in the new Civic is easy to find, understand, and use. The layout of the whole dash is easy on the eyes and allows for quick information gathering.
Right behind the steering wheel there's a large, easy to read analog tachometer. A screen mounted a level above the tachometer shows a digital read out of speed along with engine temperature and a graphic illustrating the driver's level of fuel efficiency. A second screen to the right of this cluster acts as a display for the car's on board trip computer. Driver's can bring up a variety of information here ranging from driving statistics to music and entertainment to even a custom user-selectable wallpaper! A lot of this interactivity however is controlled by buttons mounted on the steering wheel, which means that the driver is the only one who can use certain controls.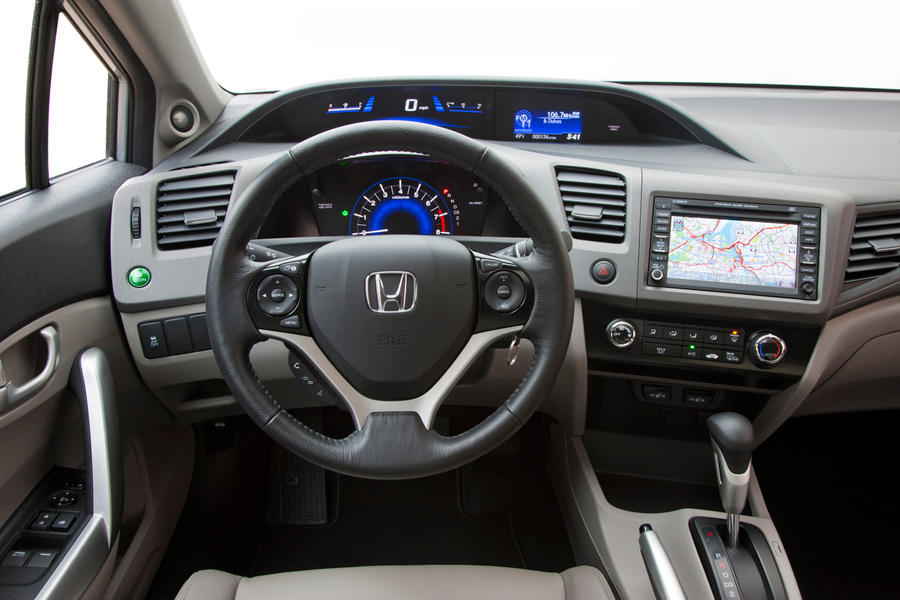 Outward visibility comes in ever decreasing amounts with newer cars, but Honda seems to have been careful in the design of the 2012 Civic to maximize how much of the world around them a driver can see while inside the car. Even the cabin feels spacious and airy; thanks to a steeply raked front windshield that allows more light in to the cabin.
The 2012 Civic earns major points for its interior layout and material selection, but lacks a certain je ne sais quoi which would make it perfect.
Drive
Any Civic enthusiast will tell you that one of the highlights of a Civic is its driving characteristics. In this department the 2012 Honda Civic is no disappointment. For a car that can carry 5 passengers comfortably, the Civic is extremely nimble. Turn-ins are quick with sharp steering response, the steering wheel itself is weighted just right so that whether you're cruising down the highway and doing a quick lane change or navigating a tight parking space, the effort required to make your turns feels quite natural.
The new Civic draws its power from a single engine option. The Civic's 1.8L in-line 4-cylinder powerplant is capable of 140hp @ 6,500rpm and 128lb-ft of torque @ 4,300rpm. These aren't exactly hair raising figures, but that's what Honda has relegated its 201hp Civic Si for – a story for another time. Sending the power to the wheels of the Civic is a standard 5-speed manual transmission and an optional 5-speed automatic – adds $1,200 to the base price. My tester was equipped with the 5-speed manual, which was a joy to drive. Gear shifts were buttery smooth and well poised; although a sixth gear for highway cruising would've been appreciated.
Honda has made stability and traction control systems standard kit on all 2012 Civics. Coupled being an IIHS Top safety pick for 2012, the new Civic will put any safety conscious driver at ease behind the wheel.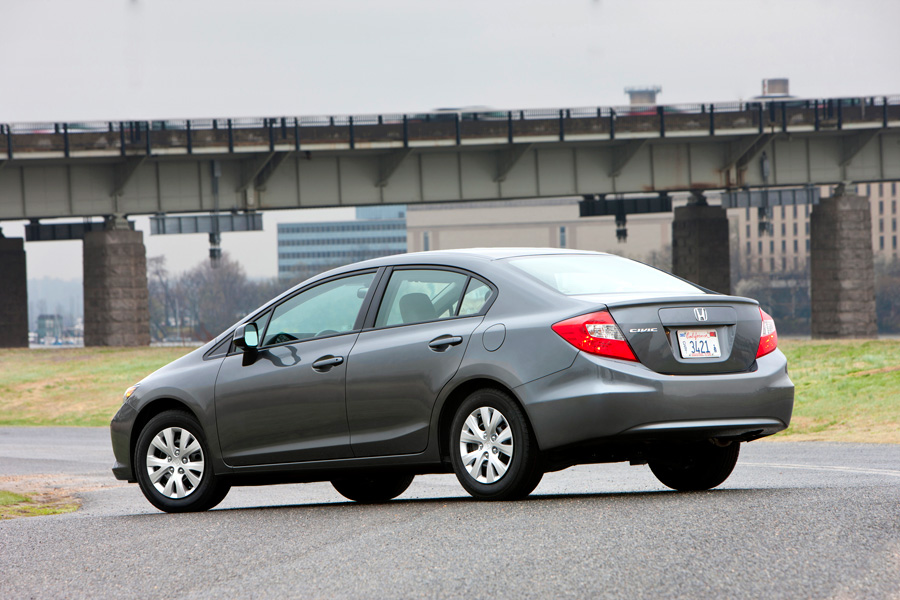 Worth noting in the new Civic is an ECON button located on the dash left of the steering column. Pressing the button alters the car's throttle response, shift timing (for automatic transmission cars), and air-conditioning system allowing for the most efficient energy use. Driver's may lose their sense of spirited driving by engaging the ECON mode, but will gain greater fuel-economy as a result.
Verdict
Ranging from $14,990 for a base model manual transmission car to $24,390 for the very-well equipped automatic transmission car, the 2012 Honda Civic offers up worthy choices for almost everybody – did I mention there's a Civic Si with 201hp starting at $25,990 and a Hybrid model featuring a combined fuel economy rating of 4.3L/100km for $27,350? There aren't too many cars out on the market today that feature the choice a Civic offers.
This newest generation Honda Civic is an evolutionary change of a car that's been around since 1973. It offers up more space, improved comfort, great fuel-economy, and – like any good Honda – first rate reliability. For those looking to buy their next compact car, the 2012 Civic makes a strong case for itself; but there's one other thing that makes it just a little extra special…
All Canadian Honda Civics – except for the Hybrid – are built in Alliston, Ontario; a manufacturing plant which employs about 4,200 people. In a testament to the quality control of each Civic, Honda Manufacturing ensures every car is driven and tested on-site as it rolls off the assembly line. The proudly Canadian Honda Civic? We happen to think so.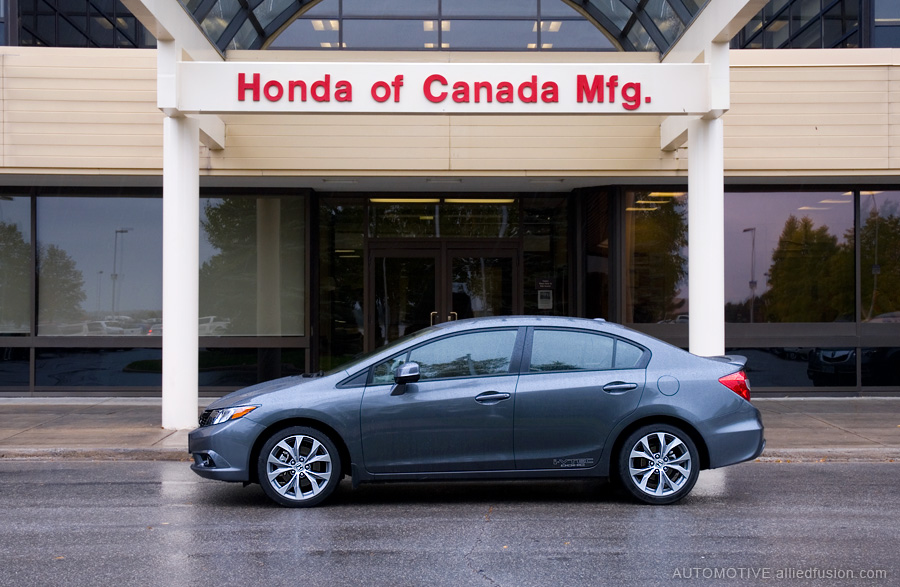 Photographs by Wilson Lo, Kanishka Sonnadara and Honda Canada.
Kanishka Sonnadara is a member of AUTOMOTIVE.alliedfusion.com and can be found on Twitter @autoKsS.