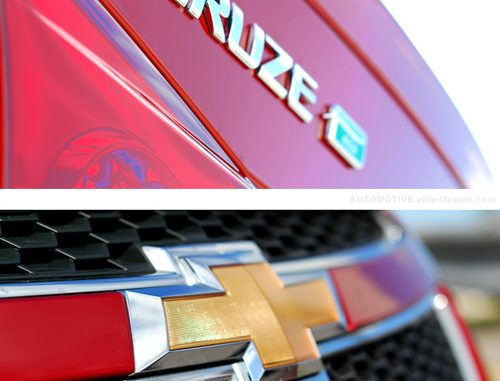 You can publish this article on your website as long as you provide a link back to this page.
This article was last updated on April 16, 2022

A popular model for Chevrolet since its launch in 2011, the Cruze really carves out a name for itself with the Cruze Eco. The Eco's claim to fame is its terrific fuel economy. Despite the already low official fuel economy numbers for the 2012 Cruze Eco, what really sets the car apart is its real world fuel economy.
Scratching your head wondering why I'd separate the two? Well, normally when I test drive cars, I always expect and experience a discrepancy between official figures and my own personal ones –my numbers are higher. The reason is usually simple, I am regularly heavy on the throttle and my average speeds in city/highway scenarios are higher than the speeds new car fuel economy tests are done with. Since I drive nearly all test cars in about the same way, the discrepancy isn't anything worth writing about.
For the Cruze however, real world fuel economy is as good if not better than official numbers. This level of efficiency is no accident, nor is the result of an uncannily small engine. No, the boffins at General Motors –parent company to the Chevrolet brand– took the most logical approach to making the Cruze Eco the most efficient gasoline powered vehicle in its segment: make it aerodynamic and make it lighter. Sounds straightforward in principal, yet the fact that this is one of the only cars to employ this level of attention to detail makes it quite special.
The highlight of the Cruze's aerodynamics come from its lower front grill air shutter system that opens at low speeds to optimize engine cooling while remaining closed at higher speeds allowing the car to be significantly more aerodynamic. The system is entirely automatic and manages the air shutter system by analyzing data from various internal and external data sensors.

Like nearly all cars of this day and age, the 2012 Cruze Eco features an aerodynamically smart overall body design, but taking it a step further, this compact Chevy sedan also has an aerodynamically smart underbody. By cladding up the car's underbody with panels, the Cruze has a lot less air turbulence underneath allowing it to cruise at higher speeds with a lot less drag.
Also contributing to the 2012 Cruze's overall efficiency are lightweight 17-inch alloy wheels paired with tires offering low rolling resistance, a lower ride height and reduced use of sound deadening material –more on this later.
To properly understand how efficient this vehicle is, we took our 2012 Chevrolet Cruze Eco test car equipped with a 6-speed manual transmission –the right way to buy this car– on a bit of a road trip. The destination? GM's hometown and the iconic centre of American car culture: Detroit, Michigan.

Highway driving really is where the Cruze Eco comes in to its own. Purpose-engineered long 4th, 5th, and 6th gears mean that cruising at highway speeds yields hybrid-shaming fuel economy. This is also the very thing that becomes the car's biggest nemesis. Even aggressive downshifting will yield little in the form of highway passing power; but then again should buyers be looking for power in a car badged 'eco'?
I carried 3 passengers with me on my trip to Detroit and back; although I was the largest occupant in the car at 6ft 1in and 200lbs none of us were ever left feeling terribly uncomfortable. I was aware of the reduced sound deadening material in the Cruze Eco at the time of the drive, but can't concretely tell you that it in any way negatively affected our 9 hour drive to Motor City and back.

Bouts of hard accelerations and quick braking generally characterize my driving in Detroit –it just seems like the way to drive there, maybe I'm over compensating for an Ontario license plate; a story for another time perhaps. The car does well for acceleration at lower speeds with a nice wave of turbo infused power spurring the driver on near redline. In the braking department I was less than impressed, with the peddle feeling extremely soft and those low rolling resistance tires not offering a whole lot in the way of grip. All Cruze models –except for the top spec LTZ model– come equipped with disc brakes up front and drum brakes in the rear; I can't help but feel that GM could've done better here.
Having 4 people in the cabin meant that all our luggage had to fit in the trunk. Not a problem with the Cruze Eco since it features a larger than average trunk for a compact sedan because it doesn't carry a spare tire; it's a saving weight thing. Although some of you will groan at the prospect of not having a spare, think of the last time you actually did your own tire change on the side of the road… I've always just called CAA. If you have the OnStar system in your car active, you can ask for help to be sent without even picking up your phone.

At the end of our 1,200km round trip I had spent a little over $90 on fuel. A truly terrific result considering that same trip a couple weeks earlier in a mid-size sedan cost me almost $200.
Overall, my impressions of the Cruze Eco boil down to price. Although not the least expensive fuel efficient compact sedan, it is very well equipped for the price point it sits in. Having the best real world fuel economy figures is the icing on the cake and it is what makes the Cruze Eco such an attractive purchase option.

There will come a day many years from now that we'll look at the Cruze's green 'eco' badge on the decklid of this car and smile at how quaint it is –much like we do with old cars that have the words "fuel injected" next to the model designation. What makes the Cruze Eco "eco" will be standard across all cars, but right now, this Chevrolet is leading the charge on making gasoline powered cars more efficient than they've ever been.
Photographs by Kanishka Sonnadara who is a member of AUTOMOTIVE.alliedfusion.com and can be found on Twitter @autoKsS