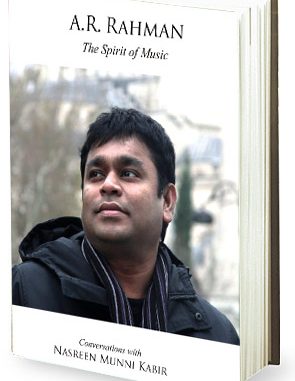 Huge hype. Great build up. Extensive publicity. Elaborate launch. And the man at the middle of it all – A.R. Rahman. There is so much going around the biographical take on Rahman's life by Nasreen Munni Kabir that it isn't easy to ignore the book which has just hit the stands – 'A.R. Rahman – The Spirit of Music'. Though close to a couple of years back there was another book on Rahman, 'A.R. Rahman – The Musical Storm', which was released, it was dismissed as being an unofficial take on the composer. Now that everyone in the know-how are pretty much placing 'A.R. Rahman – The Spirit of Music' as being the 'real official' write-up on the man who has been delivering terrific film music for close to a couple of decades now, one hurriedly checks out what exactly is being told here. So do the results live up the hype? Does a reader indeed get to see the side of Rahman which has been hitherto unseen? Are we indeed for a treat? Is the detailing extensive enough to qualify as a perfect biographical tale? And last but not the least; is 'A.R. Rahman – The Spirit of Music' the final word on the only man who has won two Oscars for the country? The answer to all these questions is, sadly, 'no'! To think of it, what is being sold as a book here is nothing but a mere 100 page odd write-up which could well have fitted as a series of interviews in a film glossy.
In Nasreen's own words, the book is based on a round of conversations that took place between her and Rahman over a period of four years. All these conversations have been somehow plugged together in an attempt to make it a seamless read. However the jerks are visible as the conversation moves from one topic to another, at times rather abruptly. Also, the author has taken a conscious call to present the entire conversation in one go instead of dividing it into chapters that could possibly have delved into different points of Rahman's personal and professional life. Resultantly, there is a distinct sense of incompleteness that one gets mid-way into reading the book. A series of questions and answers also means that the much expected flow that you expect from a book is indeed missing. Also, you get a feeling deep down heart that the book was perhaps an effort to be there 'first' in order to get a so-called biography in place just in order to beat competition. But as things stand, one indeed believes that there is ample scope out there for someone to spend a lot more time with the maestro, bring out more hidden facts about his life, venture more into his territory – both home as well as studio, and then get a detailed account of what Rahman really stands for. Of course when it comes to topics around spirituality and Rahman's core thought process of composing music, there are extensive details provided. In fact these are the points where Rahman really opens up and hence justifies the book's title 'The Spirit of Music' too. One can clearly see how deeply religious Rahman is and how deep rooted is his belief in purity of music. One also gets to see that for Rahman it is quality that matters more than commerce and hence the reason why he stays on to be uncorrupted despite all the big bucks all around him. There are quite a few other facts around his life being mentioned in the book though this is where one ends up remembering the previous book on him, 'A.R. Rahman – The Musical Storm'. Really, if it was indeed about knowing more of Rahman as a person, his friends, families, their struggles, euphoria, issues, fame, wealth and sacrifices then author Kamini Mathai had actually presented it all in much more detail. Of course when that book was released, many had wondered if all that was written was indeed authentic since it was not an official biography. Also, though there were some quotes from Rahman himself, most of the book was basically a compilation that Kamini had put together after interacting with Rahman's friends, family members and industry insiders.
In case of 'A.R. Rahman – The Spirit of Music' though, despite the book being a first hand account, there is an emptiness that one encounters. There is some good compensation though, what with as many as 72 additional pages – all comprising of pictures – interspersed into the book. Now that turns out to be quite a deal actually because there are some rarest of rare pictures featuring Rahman that indeed makes for a collector's item. This is not all as there is an extensive Discography around Rahman, something which I believe hasn't been put together in one single place ever before. It doesn't just feature each and every film soundtrack composed by Rahman but also various non-film albums, non-film singles, music for short films, signature tunes, TV series, advertisements/jingles and ring-tones created by him. In addition, one gets to read all about hundreds of awards and honours that Rahman has earned for himself in last couple of decades. To round it up all, there is much popular 'Theme from Bombay' as well as 'Cry of the Rose' (Roja) which have been reproduced in the book. And then for the hardcore fans, there is a music CD included as well that features as many as eight unheard of Rahman's non-film tracks that last close to an hour. A word of caution though – majority of these are instrumentals with a classical base to them. However for a die-hard fan looking at some added bonus in the book, this really makes for a good deal. Coming back to the book though, one just about manages to knock the doors of Rahman when there was so much of an opportunity to go a little deeper. It is apparent that the author has made a definite effort to make Rahman open up and talk about his music, something that she succeeds in as well. Now if only there were other facets of his personality as well as his inner and outer world explored too, it would just make for a complete affair.
Price: Rs. 495/= Rating: 3/5