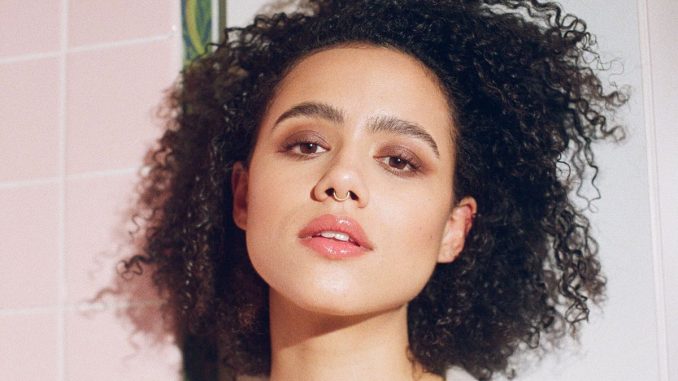 You can publish this article on your website as long as you provide a link back to this page.
This article was last updated on April 16, 2022

"Sorry, I'm just texting my friend. I just got a memory on Facebook from 10 years ago!" Nathalie Emmanuel laughs as she hurriedly types away on her phone. As we sit down at Farmacy, her favorite vegan restaurant in Notting Hill, not far from her northwest London home, Emmanuel tells me that she's just come from a hair and makeup test for a new project she's working on and half-jokingly apologizes for her two uneven braids. There's no need, because from my end of the table they look flawless.
We meet on an evening in early June, and though she's been rushing around all day, Emmanuel is comfortable here. She orders a beetroot tea and some food, including "the mac and cheese, because I want you to try it." With her phone now placed face down on the edge of the table, Emmanuel speaks enthusiastically, but there's a measured thoughtfulness behind everything she says. She also gets a main course of noodles for herself.
"I really miss having the desire, the energy to cook food for myself," Emmanuel says. "There's something really grounding about cooking a meal for yourself. Or other people, the social aspect of it." Since becoming vegan about seven years ago, she's taken to creating vegan versions of the Caribbean dishes she used to eat with her family. Back in May, Emmanuel tweeted about having rediscovered her watercolor paints; she dabbles, but says she's not very good. Last year she found the time to train as a yoga teacher, too, which she says she'd love to do more with. Wearing her trademark off-duty septum ring, a gold and silver earring in each ear, stacked rings, and a gold mesh choker with the letter "N" in the middle, Emmanuel emits the effortless London cool girl aesthetic we've all coveted at some point. Her classic Doc Martin boots and patent black trench coat seal the deal, though she says she put the jacket on with the assumption that it was going to rain.
Tropic of C La Plage Top in Check, $125, available at TropicofC.com; Cyclas Waterfall Ruffle Silk Skirt; Cyclas Polka-Dot Silk Top; Brother Vellies Yin Yang Doodle Boot, $995, available at BrotherVellies.com.
The Facebook memory Emmanuel mentioned was from Hollyoaks, a long-running British soap opera that she starred in between 2007 and 2010, long before her career-defining turn as Missandei, a freed slave and right-hand-woman to Daenerys (Emilia Clarke) in Game of Thrones. "Playing Missandei was one of the greatest roles, one of the greatest joys of my career," Emmanuel, 30, says matter-of-factly. "I just look on it as something really beautiful and amazing. I feel really grateful." By the middle of season 7, Missandei's unwavering commitment to Daenerys had become one of the landmark relationships on the show. The tenderness Missandei shared with Grey Worm (Jacob Anderson) didn't once compromise her character's individual value, or reduce her narrative. We felt the pain of her past, her loyalty to her queen, and affection towards her lover without question. The strength of her resolve made Missandei one of the most affecting performances to watch.
Missandei's brutal beheading atop a King's Landing wall at Cersei's command was one of the final causes of Daenerys' transition to mad queen. Missandei's final cry, "Dracarys," was meant to be one of strength. The term means "dragonfire" in High Valyrian, and the showrunners confirmed Missandei was telling her queen to "light them up." Despite this final act of defiance, Game of Thrones fans were devastated, with much of the heartache coming from Black Twitter in particular. "Literally will stop watching #GameOfThrones to mourn Missandei! The only Black woman in this entire stupid show!" one fan tweeted. "Missandei didn't have to die for Dany's Mad Queen arc. A good writer would've gotten there without fridging the only Black woman on this show," said another. "This Missandei shit hurt on a different level bro, past the show even. They had to kill the ONLY BLACK WOMAN in the whole damn show, AND she had to die in CHAINS. Chains?!" another viewer said.
"It was really intense," Emmanuel explains of the vitriol. "I knew, being the only woman of color on the show, that it would hurt people more, but I didn't quite expect the scale of it. It sparked a huge conversation about representation and the treatment of those characters within the show, and it's a conversation that I really am passionate about."
Being the only woman of color on a show as culturally impactful as Game of Thrones came with its own pressures, and she admits there was "an emotional, mental receipt from having that conversation all the time."
"It got to a point where I was like, Okay guys, I need just a few days of no interviews talking about this because it's really hard. Having it be your responsibility to educate people on these issues is a big responsibility, and you want to not say the wrong thing. It's a bit of a minefield. How can I possibly speak for all women of color?"
Borgo de Nor Corin Midi Dress, $656, available at BogoDeNor.com; Bevza Pearl Top, $551.24 $386.43, available at Bevza.com; Nomia Twyla Lace Up Mule, $385, available at Nomia-NYC.com; Vada Dorothy Tall Dome Ring, $4,200; Enamel Stripe Ring, $2400; Mini Tapered Hoops, $470, available at VadaJewelery.com.
The stakes are high for Emmanuel's next role — as they will be for all Thrones actors as they move beyond Westeros. For Emmanuel, it means leaving her fantastical medieval-inspired costumes behind to lead the cast of Mindy Kaling's modern adaptation of 1994's Four Weddings and a Funeral, premiering on Hulu July 31. With appearances in blockbuster action franchises like Maze Runner and Fast & Furious also behind her, we're about to see Emmauel try comedy for the first time. She gushes when asked about Four Weddings ' adapter, part of her decision to sign onto the project (besides it being the complete opposite of Thrones). "It was really nice, very cute and not violent," she says. "I mean, it's Mindy Kaling!" she says, beaming. "Her work speaks for itself."
The 10-episode series is decidedly different from the film we remember. It follows Emmanuel's character Maya, a young political communications director living in New York (yes, Emmanuel nails an American accent). Maya and her three best friends all studied abroad in London in college, and they all vowed to try to move back after graduation. Maya is the only one who hasn't done so thus far, partly because she's being strung along by her married, older boss. He won't leave his wife for Maya during his Senatorial campaign, and when news of their affair gets out, Maya heads to London to reunite with her friends and escape the scarlet letter now following her around. In a very Hugh Grant-esque meet-cute, she immediately bumps into Kash (Nickesh Patel) when she loses her suitcase at the airport. The only problem is that Kash happens to be engaged to Maya's best friend, Ainsley (Rebecca Rittenhouse).
Nomia Oversize Organza Trench; Solid & Striped The Anne-Marie Swimsuit, $158, available at SolidandStriped.com; Camilla and Marc Skirt; Lizzie Fortunato Ridge Cuff, $115, available at Shop.LizzieFortunato.com; Lizzie Fortunato Meridian Cuff, $195, available at Shop.LizzieFortunato.com.
The entire show was shot in London, which meant that Emmanuel was able to be close to her mother, who lives in her hometown of Essex, attend her sister's wedding, and celebrate her 30th birthday with friends and family. Though the lead characters are American, the distinct British charm that defined Richard Curtis' original still runs through this new adaptation. But perhaps one of the biggest differences this time around is that Maya and Kash, the two protagonists we watch ambling through the titular four weddings and a funeral, are people of color from different ethnic backgrounds. "When does that ever happen?" Nathalie asks. There's a scene early on where Maya and Kash are comparing the stereotypes that she, as a mixed-race woman, and he, as a Pakistani-British man, face. Maya says she gets told "You look kind of Black," and Nathalie, whose family history is rooted in the Caribbean, laughs as she remembers filming the scene. "Story of my life, like, literally," she says. "I want to cringe at the words that were used when I was younger, but it's true."
"I'm very aware of my very light skin, and I've got mostly very European features," Emmanuel adds. "My whole life I've had people trying to box me based on my exterior. There are people that will deny me my Blackness, and there are people that just need to know what 'side' you're on, or some nonsense. I think most people who are mixed have faced their own version of that, and so I really found that line funny because it's true. It was just a very funny, true statement."
Nathalie's character Maya is a tricky one, though. There's a frustratingly familiar narrative around a young, classically beautiful woman having an affair with her older, arrogant boss, and though that's essentially where we pick up with Maya in Four Weddings, it's not the direction that the series takes. "I really struggled with that side of her story," she admits. "I struggled with finding a way to like her! She's doing this awful thing, and I had to work hard at telling myself Okay, she thinks they're in love. She's in love with this person, and he's telling her all of these promises. I can relate to that naivety, and just being so caught up in your emotions. I had to connect with that side of it to settle that within myself, and I think Maya is a character who wants to be good. She wants to do the right thing, but she doesn't always know what the right thing is to do."
Contrary to the 1994 film version, the new Four Weddings isn't full of the sex talk and comic intimacy that you'd expect. "We know how sex goes; we've seen it enough times. I think it's more interesting to figure out how you get to that bit and the messy stuff in between," Emmanuel says. "Maya definitely has her fun in the series, but it's just not a huge spotlight on it. For me personally, I think there's always bigger…" she pauses to find the right word here before continuing, "Repercussions for a woman doing those scenes than there are for men. Having female writers, they're probably more conscious of that."
The Frankie Shop Double Breasted Woven Blazer; The Frankie Shop Pleated Linen Blend Pants; Flagpole Estelle & Stephanie Bikini Top, $390, available at FlagpoleNYC.com; Nanushka Yola Puffed Shape Platform Sanda, $397, available at Nanushka.com; Agmes Sabine Earrings; Vada Bovary Bracelet, $3,200, available at VadaJewelery.com
There's a tone of heartfelt concern and sincere curiosity in Emmanuel's voice, particularly as she discusses matters that are important to her. It's a quality that likely lends itself well to her progression through film and television projects on both sides of the Atlantic; a progression that shows no signs of slowing after Four Weddings.
Next is a Netflix original animated series, this one itself a prequel to a beloved 1982 fantasy film, The Dark Crystal: Age of Resistance, and another spin in the Fast & Furious franchise due to hit theaters next year. Missandei may have never achieved her dreams of living out the rest of her life with Grey Worm in Naath, but Emmanuel's have never been deferred. Still, with her signature candor, she's not afraid to get real about having to hustle in Hollywood: "It's almost like when you're out in open water, and you're kind of pedaling. It's how long you can stay afloat. It's how long you're willing to kick your legs and use your arms because a lot of people get tired, and then they get pulled under."
Click HERE to read more.

You can publish this article on your website as long as you provide a link back to this page.