Got spring cleaning on the brain? Forget it. Say good-bye to all those dreams of an organized, minimalist life, and get ready to start coveting, because we're about to drop a major fashion bomb on your plans. We tracked down three of the country's craziest clothing collections for a peek inside the life of a fashion hoarder and, instead, found something truly inspiring.
These enviable closets are full of vintage gems, luxe rites of passage, and above all, nostalgic pieces from the lives of three women who can collect like nobody's business. Meet our favorite fashion hoarders and the wardrobes that can't be tamed.

We'll start off with Tessa Morehouse, a designer for Plenty by Tracy Reese and a vintage collector extraordinaire. From the moment you step into her apartment in Washington Heights, you're bombarded with kitsch of the best kind — trinkets from all over the world, decorative plates, even taxidermy (a personal hobby of hers).
"My mom would take me to thrift stores where we would buy old flower-girl dresses, sequined tube tops, and vintage hats and accessories for me to play with," Morehouse says of her early days. "I had a huge box of these things and cherished the different people I could become. My mother tells me that I wouldn't let her choose my outfits, and I always had to change clothes at least three times a day!"
Photographed by Winnie Au.

Morehouse learned early never to throw anything away — with her future children's interests in mind, of course: "I mean, who really wants to hear about their mom's fringed, suede miniskirt and matching suede boots bought on Carnaby Street in the '60s…that she got rid of? Not me, it's heartbreaking!"
Plus, her taste hasn't changed much. "I own a lot of jewelry and shoes. I've worn the same size shoe since I was 10, so I racked up a lot of shoes. Thankfully, I've moved past the jelly sandals, but wish I still had those Dr. Martens!" Don't we all, though?
Photographed by Winnie Au.

In addition to her work for Tracy Reese, Morehouse also designs vintage-inspired cocktail hats — you can see a few of these fascinating toppers, embellished with everything under the sun, up top next to her boxes of fabric and magazine cutouts.
Photographed by Winnie Au.

Aside from a few high-end items (ahem, Miu Mius and Manolos), most of Morehouse's stuff comes from thrift stores. "I feel like I don't go shopping all that often, but I guess that can't be true, looking at my closet. I like to go to the flea markets and hit up my thrift stores once or twice a month."
Words to live by? "Will I be thinking about this for months to come if I don't buy it now? If the answer is yes, I buy it."
Photographed by Winnie Au.

This is Miss Chase. She was watching over our photo shoot, as Morehouse shared amazing stories of her many trinkets, like the anonymous dental mold gifted by a hermit she was determined to befriend — and who remains a great pal to this day.
Photographed by Winnie Au.

Though Morehouse's home is surprisingly organized (or at least, it was when we stopped by…), she admits cleaning is a bit of a rare occasion. "If it were up to my hoarding side, I would never clean out my closet," she says. "But my more rational brain — the part of me that wants to be able to breathe in my room — has coerced my friend Amy to be my designated closet helper. It's a truly valuable friend who knows your style and gets you completely, who will also give you their weekend to help you organize, gently nudging you to get rid of things, and who will let you cry on their shoulder when you finally decide to get rid of something."
Photographed by Winnie Au.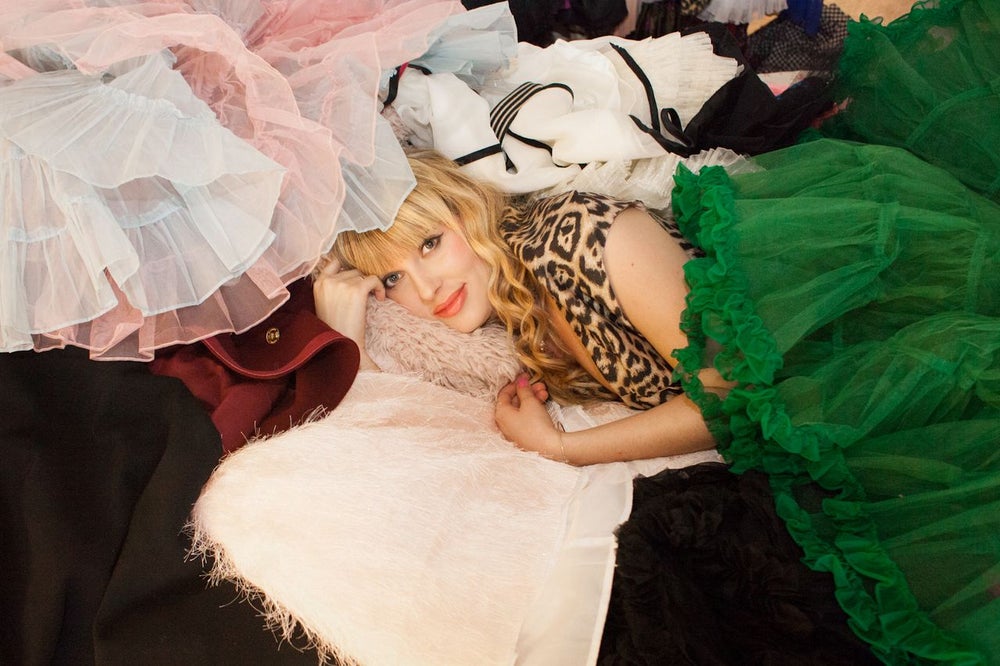 Next, we hopped cross-country to meet Jackie Rose, a personal shopper and stylist living in the Bay Area. She was kind enough to provide cupcakes, Champagne, and as you can see, a lotof chiffon. Like Tessa, shopping was a childhood passion: "I remember very vividly my dad taking us shopping at Nordstrom. My sister and I would pretend we were walking down a runway! I must have been 5 years old. I remember in middle school, I would dress all my friends for dances."
Photographed by Anna-Alexia Basile.

"I love vintage fashions especially from the '20s,'40s, '60s, and '70s," Rose says. "I am a huge collector of vintage Chanel costume jewelry, so I have boxes of that. I also own a lot of long, flowy dresses from the '70s. I am in a dress every day."
Her latest score? Vintage Miu Miu heels for $45!
Photographed by Anna-Alexia Basile.

Some of that Chanel — including Rihanna's favorite vintage pearl sunglasses.
Photographed by Anna-Alexia Basile.

Rose says she's got so much stuff in her current inventory, she could go years without wearing the same outfit — but she's still strict when it comes to shopping. "I ask myself, "Can I live without this?" If the answer is no, then I purchase it. If I say "maybe" about an item when I'm in the store, I'm only going to have more doubts when I get home, so I walk away."
Photographed by Anna-Alexia Basile.

If you're wondering who's bankrolling this operation, it's a result of careful saving and an investment strategy she calls a "win-win."
"Most of my money goes back into pieces for styling or for photo shoots or for trunk shows, which is my business," Rose explains. I do trunk shows every three months, where I have sample sales on designer pieces that I've worked with but no longer need." And, as for a favorite piece — though it's hard to pick — she cites a pair of hot-pink Louboutins, specially created for a shoe store in Napa.
Photographed by Anna-Alexia Basile.

If you're a bit of a fashion hoarder yourself, you might recognize Miguelina Gambaccini's name — her super-feminine beachwear brandMiguelina is a favorite among beautiful people everywhere. And, her personal collection is equally impressive. We're not just talking clothes, either. From antique Buddhas to artwork and to-die-for furniture, this is a dream apartment for any space-strapped New Yorker.
Photographed by Winnie Au.

Among the mass of covetable goods is an extensive collection of Lanvin shoes, mountains of lace both vintage and designed for her upcoming bridal collection, and Anndra Neen jewelry and accessories, pictured here. "I consider them art," Gambaccini says, and we have to agree.
Photographed by Winnie Au.

Of the impeccable organization, she says she owes it all to her housekeeper Bertha, but Gambaccini admits it's sometimes a bit much to manage: "You should've been here during Fashion Week — all my stuff was piled up in the bath tub!" But for now, everything is in it's place. "Whenever I go shopping, Bertha says, 'You don't need that. Tell me what you want to buy, and I'll find it in your closet.'"
Photographed by Winnie Au.

"I'm not a terribly materialistic person — I just love good design and I collect it," Gambaccini says. "My YSLs are some of my favorite pieces, and the first designer thing I ever bought was a pair of Versace loafers. I also own lots of nightgowns from the '30s…I guess I thought they were dresses; I wear them during the day!"
Photographed by Winnie Au.

More of her untamed piles of jewelry — hey, when it's that pretty, why hide it?
Photographed by Winnie Au.

Her weakness is Brian Atwood shoes, and she's been trying on high heels since she first borrowed a pair from her mom at the age of 6. But when shopping (often abroad), her motto is to just buy what's timeless, what she's totally in love with, instead of following trends.
"This is one of my favorite items. I was going to so many masquerade balls a few years ago that I just said, 'Why keep buying disposable masks?' So, I got this metal one instead!"
Photographed by Winnie Au.
Click HERE to read more from Refinery29.