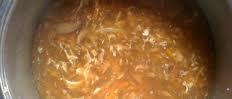 You can publish this article on your website as long as you provide a link back to this page.
This article was last updated on April 16, 2022

Peking Soup
Ingredients:
2 tbsp. cornstarch
2 tbsp. soy sauce
1/4 tsp. pepper
1 scallion, minced
1/2 c. shredded carrots or other vegetables
1 can mushrooms
6 c. beef or chicken bouillon
3 tbsp. vinegar
1/2 tsp. MSG
3 eggs, beaten
Directions:
In saucepan, mix cornstarch with small amount of cold bouillon.
Add remaining bouillon and other ingredients except eggs. Bring to boil and simmer until clear, stirring occasionally.
Gradually stir in eggs, season to taste, then serve at once.