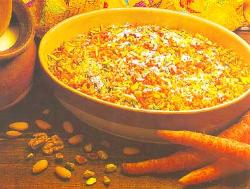 You can publish this article on your website as long as you provide a link back to this page.
This article was last updated on April 16, 2022

Aagai
Ingredients :
1 small unripe jack
5-6 green mangoes
½ pav mustard seeds
2 handful coriander seeds
1 tbsp fenugreek seeds
1 small piece asafoetida
1 small piece of haldi
½ seer red chillies
¾ pav salt (grains)
Method :
Wipe and dry mango with a clean cloth. Discard the inner stone, if any.
Cut into medium sized pieces and keep aside.
Put salt to 1 litre of water. Boil and take out from flame.
Before it cools, drop the mango pieces into it.
Cut jack (after removing skin) into moderately big pieces. Wash.
Drain off water. Tie them in a piece of cloth.
Cook over steam in an idli vessel, till soft.
Take out, open the bundle, spread jack pieces over a tray and allow to cool.
Roast red chillies, coriander, asafetida and haldi one after another, in a frying pan, without oil. First, grind the red chillies using the salt water.
When half done, mix all the roasted ingredients and grind to a smooth paste.
Transfer the masala to a vessel.
Drop the steamed jack pieces and cooked mango bits (kept in salt water).
Mix well. Wash grinder with salt water and add some of that water too, if desired.