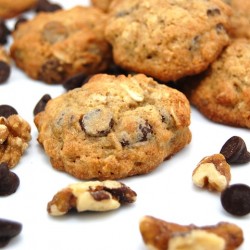 You can publish this article on your website as long as you provide a link back to this page.
This article was last updated on April 16, 2022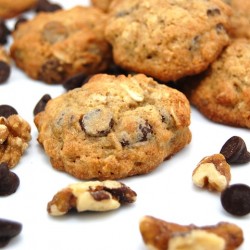 Banana Nut Cookies
Ingredients :
2 2/3rd cups all purpose flour
½ tsp baking soda
¼ tsp salt
1 cup light Brown sugar
½ cup granulated sugar
1 cup unsalted butter, softened
1 large egg
1 tsp banana extract
¾ cup mashed ripe banana
2 cups semisweet chocolate chips
1 cup chopped walnuts
Method :
Preheat oven to 300ºF.
In a bowl, combine flour, soda, salt. Mix well with a wire whisk. Set aside.
In a large bowl blend sugars at med speed with an electric mixer.
Add butter and mix to form a grainy paste, scraping down sides of the bowl.
Add egg, banana extract and banana and beat at medium speed till smooth.
Add the flour mixture, 1 cup chocolate chips, walnuts and blend at low speed till just combined.
Do not overmix. rop by rounded tablespoons onto ungreased cookie sheets, 2″ apart.
Sprinkle cookies with chocolate chips, 6-8 per cookie.
Bake for 20-24 mins or till cookie edges begin to turn brown.
Transfer immediately to a cool surface with a spatula.
Store in airtight containers.