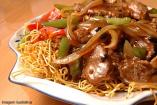 This article was last updated on April 16, 2022

Beef Lo Mein
Ingredients:
2 pkgs. Chinese Chef instant egg noodles (beef flavor), 3 oz. pkgs.
1/2 bunch green onions (chopped) or 1 lg. onion or both
1/2 lb. ground lean beef (mixed with 4 tbsp. soy sauce and 2 tbsp. cornstarch)
1/2 lg. green bell pepper (chopped)
1/2 sm. cabbage (thin shred)
2 tbsp. vegetable oil
Directions:
Heat oil in wok. Add ground beef, onions and bell pepper. Stir. When 1/2 done, add cabbage.
Cook 2 packages of noodles according to directions (only 3 minutes). Let set 1 minute.
Pour over meat-cabbage mixture. Add seasonings from noodle package. Makes 3 servings. P. S. Chicken or pork can be substituted for beef.
You can publish this article on your website as long as you provide a link back to this page.