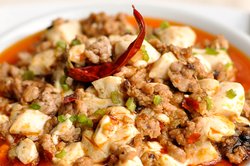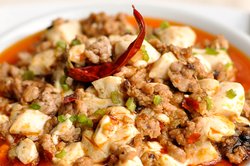 Sichuan Beancurd with Minced Beef
Ingredients:
500 g soft beancurd
3 tbsp oil (or chili oil)
125 g minced lean beef
1 tbsp salted black beans, chopped
1 tbsp salted soy beans, chopped
1 tbsp very finely chopped ginger
1 tbsp very finely chopped garlic
2 tbsp chili paste
2-3 spring onions, finely sliced
1 cup chicken or beef stock
1 tbsp black soy sauce
Salt to taste
2 tsp cornflour, blended with water
1 tsp powdered Sichuan peppercorns
Directions:
Cut the beancurd in 2 cm dice.
Heat oil and stir fry beef and black beans for 3 to 4 minutes.
Add salted soya beans, ginger, garlic, chili paste and ½ the spring onions.
Stir fry for another 2 minutes, then add the stock and beancurd.
Simmer for 5 minutes, season with soy sauce and salt, then thicken with cornflour.
Sprinkle with Sichuan pepper and spring onion, and serve.