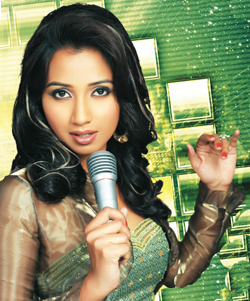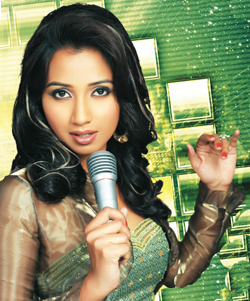 You know you've arrived on the Indian music scene, when your name is taken in the same breath, with that of Lata Mangeshkar.
From the age of four, Shreya Ghoshal began accompanying her mother who besides being a good singer even played the harmonium. And, whenever she played a good note on the harmonium, Shreya would sing to it correctly. On her own.
Her father recognizing her talent enrolled her into formal training in Hindustani classical music with Maheshchandra Sharma.
At eleven, Shreya won the children's special competition in the Zee TV show Sa Re Ga Ma, hosted by Sonu Nigam. After the competition, Kalyanji – one of the judges, urged Shreya's parents to shift to Mumbai to hone her talent.
In Mumbai, she trained under Kalyanji for eighteen months. Shrimati Mukta Bhide coached her in the basics and nuances of classical singing.
Three years later, Gajendra Singh of Sa Re Ga Ma asked her to once again participate in the mega-finals of the competition, its 75th. A reluctant, unsure and nervous Shreya complied with a Meera Bhajan … and won it.
This time she came under the eye of none other than Sanjay Leela Bhansali, who was scouting for a fresh and talented, innocent-yet-playful voice for his heroine Paro in the film Devdas. The call was made. She heeded. It was 9th March 2000.
She auditioned and was selected.
For her first recording Bhansali and music director Ismail Durbar asked her to sing the song 'Bairi Piya' casually. She did. Only to learn that both Sanjay and Ismail Durbar liked it so much that they announced it was the final take.
Shreya hasn't looked back since. She sang five out of the ten songs in Devdas, her voice emoting the pain, confidence and innocence of the heroine – Paro, thus completing Aishwarya's wholesome portrayal of the character.
Other music directors and films followed. She has sung in no less than 9 languages including Hindi. Her fan following numbered in the millions.
In her short career to date, Shreya has bagged no less than 4 National Film Awards, 5 Filmfare Awards, 2 Regional Filmfare awards, 4 IIFA Awards, 3 Zee Cine Awards, 3 Star Screen Awards, a Stardust Award, two independent state awards, 3 Apsara Awards… the list goes on.
All this, at the tender age of 26.
Just like her idol – Lata Mangeshkar, Shreya is genuinely versatile. The texture in her voice lends itself to romantic songs. But, she's able to modulate her voice to suit a pop song, a classical or a dance number. Her soft, silken, heavenly voice is hugely appealing and is loved by fans of all age groups.
Among today's female playback singers, Shreya is the only one trained in classical music and perhaps it's this foundation that has enabled her to soar above the others. Her diction and pronunciation in any language is so fluid and unaccented that it's hard to believe it's not her native tongue.
Shreya knows even in a country like India with its teeming masses and its kaleidoscope of religions, cultures, languages and social strata, it still is all about reaching the individual heart. Which she does. Every time.
There's something else.
The songs in a majority of Indian films reflect the love, romance and emotional depths of the stories. And every time she picks up the mike, Shreya Ghoshal has been able to tune her voice and her soul to the mood of the moment in the story. Something so finely achieved, seldom equaled, by Lata Mangeshkar in her six and half decade-old singing career.
Above all, in spite of all her accomplishments, Shreya Ghoshal is down to earth. Humble. Hard-working. Respectful. And, she firmly believes, in spite of foolhardy wordsmiths like I, that she's a far cry from being compared with her idol.
But then again, when you really think about it, is it really a question of whether Shreya Ghoshal will surpass her idol Lata Mangeshkar in reputation, accolades, acceptance, standards, quality, range and sustainability?
Or is it a question of who among Shreya's contemporaries are closest in accomplishments and repute to that legendary benchmark: Lata Mangeshkar?
Me thinks, you and I, are finally on the same page. No one else comes close.
You can see Shreya Ghoshal Live in Concert with Atif Aslam along with full bands and several bollyood dancers and singers on Sunday, March 28 – 6:30pm at the Ricoh Coliseum on the CNE grounds. Tickets are available by visiting suhaag.com or calling: 416-870-8000 or 416-783-1141.