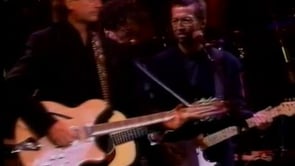 This article was last updated on May 26, 2022
Canada:

Oye! Times readers Get FREE $30 to spend on Amazon, Walmart…
USA:

Oye! Times readers Get FREE $30 to spend on Amazon, Walmart…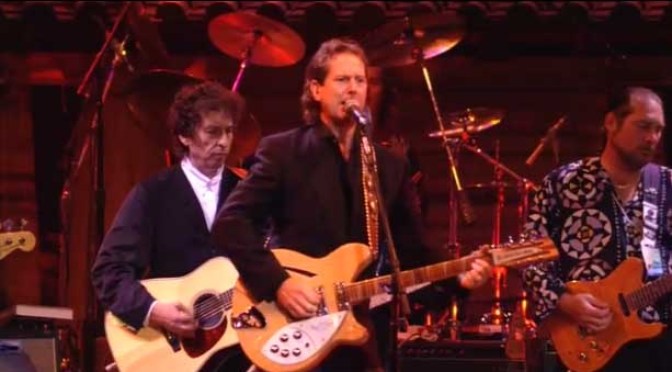 The all-star band rips through "I'm younger Than That Now" during the Bob Dylan 30th Anniversary Concert Celebration
By Stephen Pate – With the G.E. Smith house band, Roger McGuinn, Tom Petty, Neil Young, Bob Dylan Eric Clapton, and George Harrison sing a rousing version of the Dylan classic from Another Side of Bob Dylan. Clapton and Young give two memorable guitar solos in this classic from the concert on the 1992 30th anniversary of Dylan's recording career.
"My Back Pages" occurs near the end of the concert, one of two ensemble songs. Each of these unique artists puts their own stamp on a verse but in a cohesive way. Everyone has their favorite artists but for me the guitar solos and Neil Young's vocal is a standout. I get chills on the back of my neck when George Harrison sings his verse. I don't know why, nostalgia or what.
One reviewer called this one of the top 5 rock concerts of all time.
My Back Pages (Live) – Bob Dylan, Eric Clapton, George Harrison, Tom Petty, Roger McGuinn

At the end of the song you can hear them winding up for "Knocking on Heaven's Door."
The whole concert is now available for pre-order from Amazon.com as either 30th Anniversary Concert Celebration DVD [Blu-ray] , Deluxe Edition DVD or Deluxe Edition CD. It ships March 4, 2014.
Wouldn't it be great to play guitar so effortless as Clapton or as passionately as Neil Young. Classic performances. I sure am looking forward to the March 4th release of this concert, despite having it on LaserDisc and a DVD transfer.
For more about this amazing concert see Bob Dylan – The 30th Anniversary March 4 2014 and Bob Dylan 30th Anniversary Concert Artist and Track Listing.
My Back Pages
"My Back Pages" was written to distance Dylan from the success he had as a protest singer. Dylan often denied the role but he did make his early career in folk music as the best protest folk composer. No one could top "Blowing in the Wind" with its simple universal plea for human rights without giving the listener a pedantic answer.
The folk and protest movement thought they owned Dylan. He was introduced as "he's yours" at the Newport Folk Festival. That grated on his artistic freedom. Oh good, my career will be spitting out broadsides.
Another Side of Bob Dylan was a step out, to more personal songs of love and life. The world is better for Dylan moving on since he soon showed enormous talent composing poetic songs like no one before him. None of that would have happened if he was working in the salt mines composing another protest song.
His very next album "Bringing It All Back Home" includes three songs of lasting "poetic" significance, the street language poetry of "Subterranean Homesick Blues", the fantastic imagery of "Gates of Eden" and the dark rejection of negativity and pettiness in "It's Alright Ma (I'm Only Bleeding)."
"My Back Pages" is a direct message to his protest fans. He is rejecting black and white, good and bad metaphors for the more amorphous morality that reflected his real world.
Yes, my guard stood hard when abstract threats
Too noble to neglect
Deceived me into thinking
I had something to protect
Good and bad, I define these terms
Quite clear, no doubt, somehow
Ah, but I was so much older then
I'm younger than that now
Copyright © 1964 by Warner Bros. Inc.; renewed 1992 by Special Rider Music
When I first heard "My Back Pages" the rejection of the protest movement was obvious. It would not be the last kiss-off song Dylan wrote. I found the song boring, preaching to his fans. The song has since become embedded in the canon of Dylan's B-songs, a worthy classic with lyrical, melodic and historical significance. Of course being a Dylan B-song is better than most people's best songs.
Follow me on Twitter at @sdpate or on Facebook at NJN Network and OyeTimes.
By Stephen Pate, NJN Network
You can publish this article on your website as long as you provide a link back to this page.