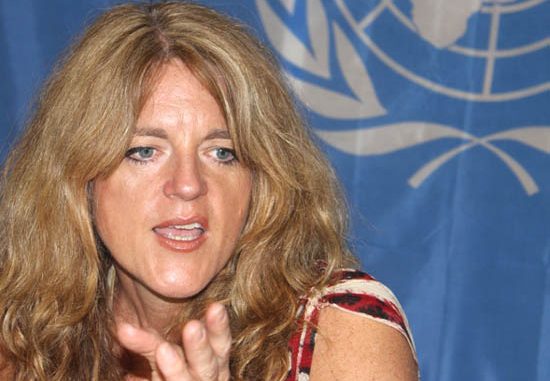 The United Nations unveiled to the press in Juba the plan to deploy 7,000 UN Peace Keeping Force in the newest Republic of South Sudan. Hilde Johnson, new head of the UN Mission and Head of Special Envoy confirmed on Wednesday.
Hilde Johnson said the UN Assembly was still debating on the number of the peace keepers to probably be reduced from 7,000 to 6,000.
"The peace keeping mission will focus on security, development and peace consolidation," said the Envoy, adding that, "it will also monitor human rights, justice and capacity building on improving international norms and standards."
Hilde said that as a new nation, the Republic of South Sudan still lacks capacity in fulfilling all the expectations of the people who voted for secession.
The mission's commitment is to create an enabling environment for the UN agencies to boost development in the upcoming nation.
"This is a critical moment for all South Sudanese… the success of the new country will be based on peace, stability and development," she underscored.
Hilde said that the UN delegation in Juba had started creating an implementation ground for the mandates of the new Mission.
"The first priority is to make an understanding with the Government of South Sudan, GOSS that is why I had my first meeting with the President of the Republic of South Sudan Salva Kiir yesterday," she said.
"Some of the critical issues in South Sudan include basic service delivery that the Mission will provide in an enabling environment for the UN agencies," she added.
She pointed out on the Mission's focus and determination is to protecting lives of vulnerable civilians in the new State.
Following recent attacks in the region that destabilized lives of thousands of civilians and killed many in the neighbouring States of Sudan and South Sudan early this year, the UN Mission has received several blames from authorities on ground for failing to protect lives of civilians.
Article viewed at: Oye! Times at www.oyetimes.com