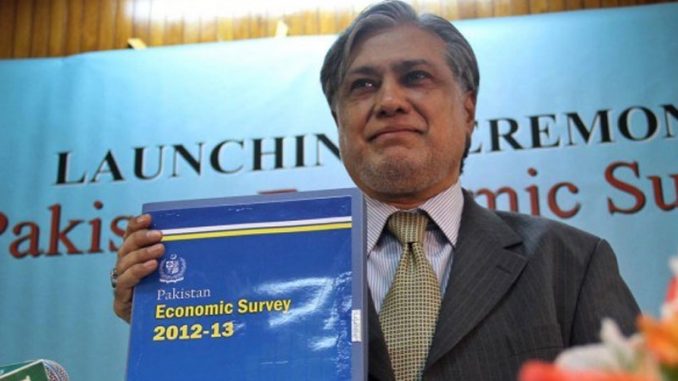 Finance Minister Ishaq Dar candidly presented a levelheaded picture of Pakistan's economy on the launch of the Pakistan Economic Survey 2012-13. Although Mr Dar is considered a veteran economist of PML-N and has also been acknowledged by opposition parties on many occasions, he agrees that the situation needs close speculation and ample time to perk up.

"Public debt has grown from less than Rs3 trillion in June 1999 to more than Rs14 trillion by the end of this fiscal," Dar said on the launching ceremony.

The finance minister openly discussed and dissected the problems linked to energy crisis, foreign exchange reserves and rebasing of national accounts. However, he was not very vocal about the means of increasing tax revenue in the coming days and whether the same number of tax bearers will be again bear the additional burden.

"The composition of public debt has witnessed major changes with increasing reliance on domestic debt due to non-availability of sufficient funds from external sources," states the economic survey.

The survey also states that the revenue deficit reached Rs497 billion or 2.2 percent of GDP during July-March 2012-13 while the primary balance is negative to the tune of Rs254 billion in 9MFY13.

"Total public debt servicing below 30 percent of government revenue are generally believed to be within the bounds of sustainability… public debt servicing consumed nearly 44 percent of total revenues during July-March, 2012-13," states the report.

The data shared by the Finance Minister is mostly what had been incessantly reported by the media and experts but never admitted by the outgoing government. He said the growth rate was 3.6 percent and not 4 percent, the budget deficit is not 4.7 percent but over 8 percent, current account deficit is $2.9 billion and circular debt is over Rs500 billion.