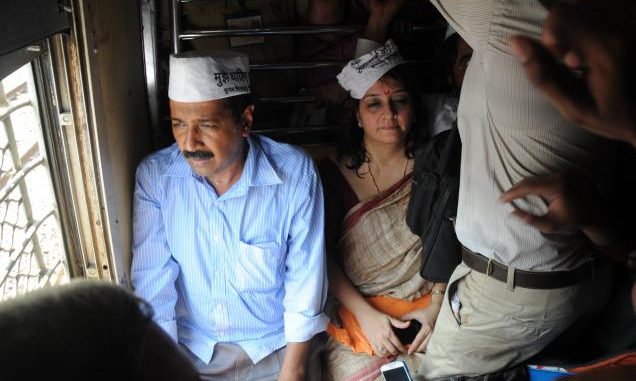 The Aam Aadmi Party leader Arvind Kejriwal gave his Maharashtra Tour a kick start by conducting a road show at south Mumbai where a large crowd consisting of majorly the youth and the working class who were gathered to witness the historic two hour long road show.

Kejriwal, wearing his white trademark Gandhi cap, gave a short but highly spirited speech after starting his road show at approximately 3 pm for his party's candidate and a former banker, Meera Sanyal. Addressing the gathering of his party workers he said, 'The leaders have looted the nation. It is time to fight another war of independence after Mahatma Gandhi. Neither BJP did anything for the Hindus nor Congress did anything for the Muslims. Now a miracle has happened. The common people have come out to the fore. The winning of 28 Assembly seats in Delhi is an example of that. There is no Modi wave in the country. I have travelled to many states recently and only saw wave of anger. This country has lot of money but the government do not have the intention for the development of the poor and the common people. This country can be rescued only by the Aam Aadmi.'

He further added that their, the fight of the Aam Admi, is against corruption and the vote casted by them is their weapon. The voter needs to realize the importance and know how to use his vote. After completing the road show, Kejriwal proceeded for another road show for another party nominee and activist Medha Patkar in the north east of Mumbai.