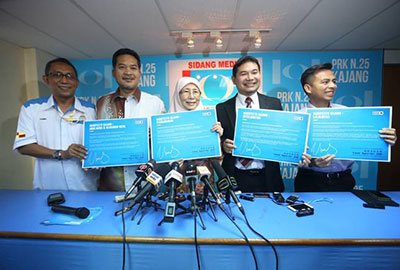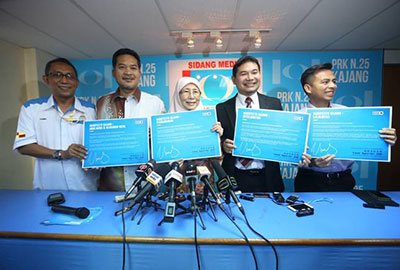 The new PKR candidate heading the Kajang Move now is Datuk Seri Dr Wan Azizah Wan Ismail who is ready to wear multiple hats and become a multitasker to win over the hearts of Kajang voters. Rafizi Ramli, the party's chief strategist insists that the overall impact towards people has not changed and still has the same priority of exposing Barisan Nasional's (BN) weaknesses in governance.

We still believe whether it is Anwar or now Dr Wan Azizah, the candidate would be able to have a direct input to the state administration," he informed the media at PKR's operation centre here this Wednesday. "Although the dynamics change slightly in terms of narrative, but the overall impact is still the same." Earlier today, PKR launched a four-point manifesto which covers fighting crime and increasing security and safety, easing traffic problems, youth development programmes and small enterprises, as well as development and city maintenance. "This is what we promise to the voters if we are given mandate and support from Kajang voters," explained Dr Wan Azizah.

Rafizi further added that the manifesto was outlined based on their research and feedback from the Kajang voters themselves."The manifesto will be distributed in postcard forms based on demographics and their needs," he said. Rafizi also said that other countries no longer gove booklets of their manifesto but straight to the point postcards and so they have now implemented this new method to their Kajnag move.