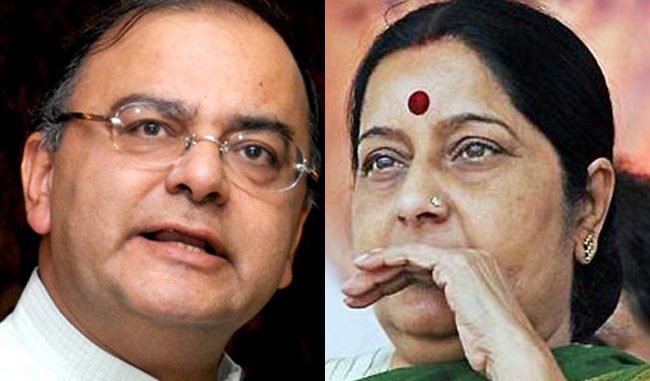 As the election fever reaches its heights all over India, BJP Congress has to concentrate on their internal fights being made public. Late Friday night, the senior leader of BJP, Sushma Swaraj, went public about her opposition to the controversial Karnataka leader, B Sriramulu re-joining the Congress party.

"I want to make it absolutely clear that B Sriramulu has been admitted in the party despite my stiff opposition," she had tweeted Friday. The Saturday morning saw red faces in the party over Ms Swaraj's public display of opposition in the party as it challenged the decision making power of the BJP's top decision-making body as well as the parliamentary board and also lead to a dumped a rift in the party in public domain. The reply to this tweet was received from Arun Jaitley who blogged today that the party needs to concentrate on consolidating its gains and that "who's in, and who's out cannot dominate the party's political agenda."

"The BJP needs to concentrate on consolidating its gains… Between now and the polling date all BJP leaders and cadres must work towards the goal of adding an additional two percent votes across the country," Mr Jaitley wrote in his blog, "Relatively marginal issues such as declaration of candidates particularly who is in and who is out cannot be allowed to dominate the political agenda in the BJP. These issues divert the attention from the core issues of governance," he added. The party's top leaders were also unhappy that Ms Swaraj's public dissent had raised all odds against Mr Sriramulu getting a ticket from Bellary, which the BJP argues will help the party in the north Karnataka region.