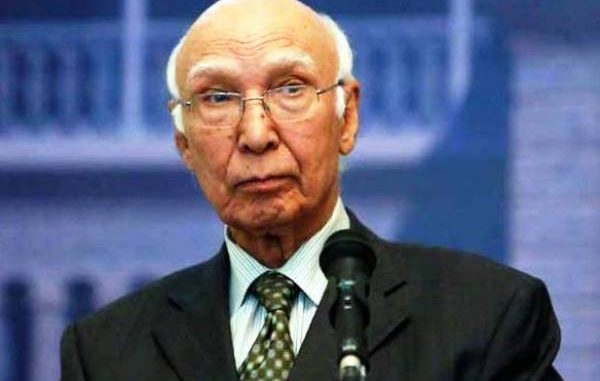 While giving an interview to CNN in London, the Adviser to the Prime Minster on Foreign Affairs, Sartaj Aziz said this Saturday that Pakistan is charting a new future of non-interference with its neighbors. "Our policy – Pakistan's policy – is non-interference and no favorite," Aziz told. "Afghan has been a theatre of great power rivalries, great power games for a long time," he said. "One of the apprehensions of the Afghan government and President Karzai was the Taliban have a better chance because Pakistan is supporting them, and we have convinced him that is not in our security interest."

Admitting that peace in the short run is unlikely, Adviser to the Prime Minister on Foreign Affairs Sartaj Aziz on Saturday said that going on a full-scale military offensive against terrorists needs will to accept the consequences of blowback "no just in the tribal areas," but across the country. Aziz said, "The normal policy of talk, talk, fight, fight, is something which has been tried in the past, and has worked well." "There are elements in Taliban who know that there is no longer the situation of the nineties when they could all run Afghanistan," he said. "So these pressures could persuade them to come to the negotiating table."

The critical step will be for the Afghan government, which will be led by a new president in a matter of months, to offer some kind of power sharing to the Taliban, something "more than they can get in the battle field." "If you ask my objective assessment, I don't see major reconciliation and I don't see a very large scale civil war, but the middle alternative of the status quo continuing" – a simmering insurgency. There may not be peace in the short run, he admitted.