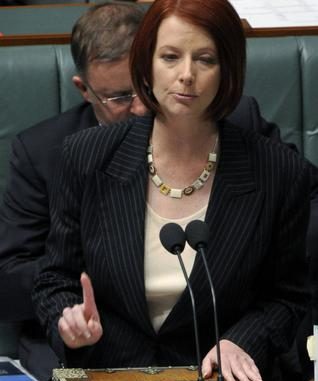 Julia Gillard says Tony Abbott's failure to support her modifications to the Migration Act to perk up Labor's Malaysian solution had led to nix offshore refugee processing policy in Australia.
Gillard says: "If there is ever a day when Mr Abbott wakes up and is prepared to act in the national interest, the legislation will be immediately brought on."
On the other hand, opposition immigration spokesman Scott Morrison alleges that Prime Minister is playing the blame game by accusing everyone except herself. He suggests Gillard to resign.
On Wednesday, Gillard delayed the legislation she had earlier maintained was "urgent" after it became evident it would not make it through. However, she refuses to unleash her people-swap deal with Malaysia.
PM Gillard said: "We are at real risk of seeing more boats. We have capacity in the mandatory detention network now, but if we do see more boats then we may have to confront the circumstance … of how we manage the mandatory detention network under increasing pressure."
According to the Immigration Minister Chris Bowen, the government would establish contingency measures to administer the likely additional boat arrivals, including the likelihood of using more "bridging visas" – which are more often than not given to asylum seekers who arrive by air.
Mr Bowen said: "(bridging visas allowed the) ability to seek work but only very limited availability of (welfare). It's available at the rate of 89 per cent of the special benefit."
Article viewed on: Oye! Times at www.oyetimes.com