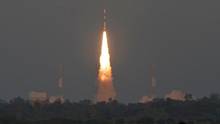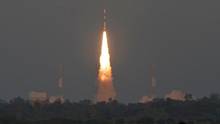 A total of four small satellites, two of which were owned by Canada while the remaining two were though developed in Canada but owned by the government of Austria, were successfully lifted into the orbit on top of an Indian rocket. The rocket was lifted off of earth on Monday from the Satish Dhawan Space Centre in Sriharikota, India, at 6:01 p.m. local time, i.e. 7:31 a.m. ET.
It has been confirmed by the ground control teams that the contact with respective satellites has been established, all of whom appear to be in good working condition. The key reason for launching these satellites was to install a large Indo-French satellite, named SARAL, in the orbit for monitoring the variations in the sea level of oceans all across the globe. Apart from SARAL and the Canadian/Austrian satellites, the rocket also carried another small satellite each owned by the U.K. and Denmark.
One of the Canadian satellites, named NEOSSat, which was a joint project of the Canadian Space Agency and Defence Research and Development Canada, has been set up with the objective of searching for asteroids on trajectories which bring them closer to the Sun than Earth. Said objects are usually hard to determine from ground-based telescopes due to their positioning in the sky being relative to the Sun. Same satellites will also be useful for tracking other satellites orbiting around Earth. Whereas the second satellite owned by Canada, namely Sapphire, is the country's first operational military satellite. It is aimed at providing the Department of National Defence with "space situation awareness", precision tracking of satellite and debris orbiting between 6,000 and 40,000 kilometres from Earth.