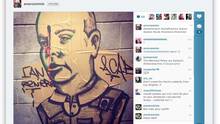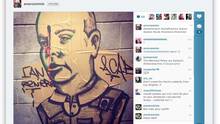 A woman has been accused of harassing one of Montreal's most prominent cops by circulating a series of photographs and graffiti depicting violence against police officers on the internet. 20-years-old Jennifer Pawluck is scheduled to appear in court later this month in order to face a charge of harassment against police Commander, Ian Lafrenière, for a series of online postings, one of which illustrated the officer with a bullet hole in his head.

Even though the picture of the graffiti showing Mr. Lafrenière has been receiving most of the attention, the alleged activist, Ms. Pawluck, has also been involved in several Quebec's protests over the past year, as she posted photos of other messages too. Previously, she distributed a photo of a bullet with the a caption, that said "we're going to kill" along with another piece of graffiti that said "one cop, one bullet." The last photo that she posted before her arrest, had the message: "death to cops." Ms. Pawluck posted the photos on Instagram under her handle, anarcommie.

Police spokeswoman Constable, Anie Lemieux, informed media sources that the arrest warrant was approved by Crown prosecutors and a judge. She further elucidated that "it's not just one photo, it's the gathering of many elements that brought investigators to this point."Whereas, on the other hand, Ms. Pawluck claims that she didn't even know who Mr. Lafrenière was before she was arrested and held for questioning for several hours. Pawluck publicly alleged that she was just photographing and sharing interesting art.