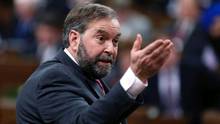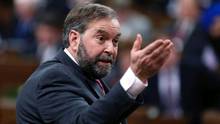 In advance to upcoming next year's federal election, NDP leader Tom Mulcair made stern accusations against Justin Trudeau, alerting Canadians that the Liberal leader cannot understand the middle class and will abandon his promised "progressive values" the moment he gets into power. Mr. Mulcair made these inflammatory remarks during a speech delivered to members of the NDP's federal council gathered in the nation's capital on Sunday.

In a notice circulated 561 days in advance to the Oct. 19, 2015 election, the NDP prepared to gain momentum since the last campaign that landed them as the official Opposition. The campaign-style speech also attacked Prime Minister Stephen Harper on different issues including health care, old age pensions and highly criticized changes proposed to the Elections Act. However, it was quite noticeable that Mulcair mostly focused his criticism towards the Liberals, who polls say have overpassed the NDP in public popularity ever since Trudeau became leader last year.

Mulcair directly criticized Mr. Trudeau, alleging that though he promises to fix the problems of the middle class and alleges it to be a central tenet of his agenda, he does not really get the middle class people and their problems. Mulcair stated that "the problem is, Justin Trudeau will never know what middle class means." Furthermore, he added that "He just doesn't understand the real challenges that families are facing – never has, never will." Being the son of former Prime Minister Pierre Trudeau, Trudeau has spent many years of his childhood years at 24 Sussex Drive.