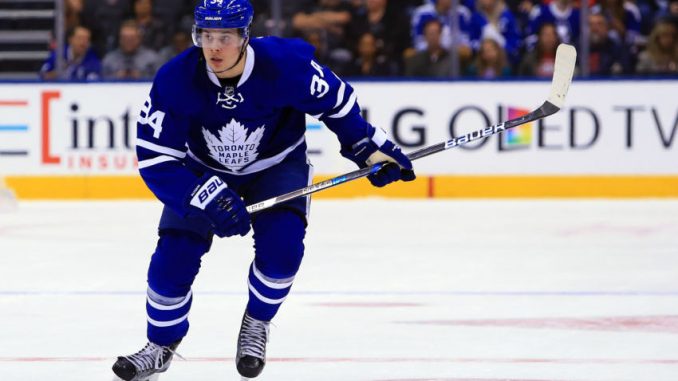 Toronto Maple Leafs beat San Jose Sharks 2-1 in OT. Here is the summary of the game played on Thursday, January 4, 2018
| | | | | | | |
| --- | --- | --- | --- | --- | --- | --- |
| | 1 | 2 | 3 | OT | SO | FINAL |
| SAN JOSE | 1 | 1 | 0 | 0 | 0 | 1 |
| TORONTO | 1 | 1 | 0 | 0 | 1 | 2 |
GAME SUMMARY | EVENT SUMMARY | FACEOFF SUMMARY

ON THE SCORESHEET
Auston Matthews opened the scoring for the Maple Leafs at 18:37 of the first period. Matthews has four goals over his last five games.
Nazem Kadri scored the second Maple Leafs goal of the game on the power play at 12:40 of the second period. Kadri has scored four of his 13 goals on the power play this season.
Connor Carrick registered the primary assist on Matthews' first period goal. Carrick has five points (2 goals, 3 assists) in 23 games this season.
William Nylander picked up the secondary assist on Matthews' first period goal. Nylander has registered 10 of his 21 assists against Pacific Division opponents.
Mitch Marner
picked up the primary assist on Kadri's second period goal. Marner has 11 assists over his last 13 games.
Morgan Rielly had the secondary assist on Kadri's second period goal. Rielly has five assists over his last five games.
Frederik Andersen stopped 35 shots in regulation and overtime before stopping five of six Sharks shootout attempts to earn the victory. Tonight's game is Andersen's 100th game as a Maple Leaf.
IN THE SHOOTOUT
Auston Matthews – Goal (2017-18: 2/4)
Mitch Marner – Stopped (2017-18: 1/4)
Patrick Marleau – Missed (2017-18: 1/4)
William Nylander – Stopped (2017-18: 1/2)
James van Riemsdyk – Stopped (2017-18: 0/1)
Tyler Bozak – Goal (2017-18: 1/2)
Frederik Andersen: 4/5 (2017-18: 12/16)
SHOTS FIRED
The Maple Leafs were outshot by the Sharks by a 35-28 margin all situations and a 29-18 margin at 5-on-5.
San Jose had a 61-59 lead in shot attempts in all situations and a 44-40 lead in shot attempts at 5-on-5
Auston Matthews recorded a team-high five shots and nine shot attempts.
SHOTS ON GOAL
| | | | | | |
| --- | --- | --- | --- | --- | --- |
| | 1st | 2nd | 3rd | OT | TOTAL |
| SAN JOSE | 15 | 7 | 10 | 3 | 35 |
| TORONTO | 10 | 11 | 7 | 0 | 28 |
SHOT ATTEMPTS
| | | | | | |
| --- | --- | --- | --- | --- | --- |
| | 1st | 2nd | 3rd | OT | TOTAL |
| SAN JOSE | 24 | 14 | 16 | 7 | 61 |
| TORONTO | 17 | 24 | 17 | 1 | 59 |
HOME SWEET HOME
The Maple Leafs are 12-6-0 at home this season.
Toronto's all-time record is 21-21-5-2 in 49 games against the Sharks and 13-9-2-2 in games played in Toronto.
Toronto is 12-7-1 against the Western Conference this season and 9-5-0 against the Pacific Division.
Tonight's win is the first Toronto win over San Jose on home ice since Jan. 29, 2002.
Tonight's attendance was 19,132.
The Maple Leafs continue their homestand on Saturday, Jan. 6 when they host the Vancouver Canucks at 7:00 p.m.
MAPLE LEAFS LEADERS
| | |
| --- | --- |
| Faceoff Wins | 9 (Bozak) |
| Faceoff Win Percentage | 100% (Martin – 1 won, 0 lost) |
| Hits | 3 (Carrick, Hainsey) |
| Blocked Shots | 2 (Four players tied) |
| Takeaways | 2 (van Riemsdyk) |
| TOI | 25:38 (Hainsey) |
| Power Play TOI | 4:05 (Rielly) |
| Shorthanded TOI | 9:20 (Hainsey) |
| Shifts | 34 (Rielly) |
| 5-on-5 Shot Attempt Percentage | 63.2% (van Riemsdyk – 12 for, 7 against) |
RECORD WHEN…
The Maple Leafs were 5-for-5 on the penalty kill and 1-for-4 on the power play tonight. Toronto is 16-7-1 when not allowing a power play goal this season and 10-4-0 when scoring a power play goal.
Toronto is 20-5-0 when scoring the first goal of the game.
The Maple Leafs are 9-3-2 when tied after one period and 8-1-1 when tied after two periods.
Toronto has a 17-9-0 record when outshot by their opponent.
The Maple Leafs are 4-3-0 in Thursday games.
OF NOTE…
Tyler Bozak won 100 percent (5 won, 0 lost) of his defensive zone faceoffs.
Jake Gardiner was on the ice for a team-high 20 Toronto shot attempts-for at 5-on-5. Gardiner finished the game with a 5-on-5 shot attempt percentage of 52.6 percent (20 for, 18 against).
UPCOMING GAMES:
Saturday, Jan. 6 vs. Vancouver Canucks, 7:00 p.m. (Hockey Night in Canada, TSN 1050)
Monday, Jan. 8 vs. Columbus Blue Jackets, 7:00 p.m. (TSN4, FAN 590)
Wednesday, Jan. 10 vs. Ottawa Senators, 7:30 p.m. (Sportsnet, TSN 1050)
Tuesday, Jan. 16 vs. St. Louis Blues, 7:00 p.m. (TSN4, FAN 590)
Thursday, Jan. 18 at Philadelphia Flyers, 7:00 p.m. (Sportsnet Ontario, TSN 1050)
POSTGAME QUOTES:
HEAD COACH MIKE BABCOCK
On tonight's game:
I thought we did lots of really good things. In saying all that, we're still a young team and learning how to win. When the game is on the line we do some things to generate offence for the other team instead of just continuing to play right. They're a veteran team, they know how to play and it looks like it when the game is on the line. We've got a long way to go and yet it was a big win for us. It was good. Freddie [Andersen] made a mistake early in the game and was able to shut the door for us. I think that's good for Freddie as well. I thought we had lots of good players tonight.
On Kadri's performance:
It was good for Naz. Obviously, Naz gets the fight and he gets the goal from the bank off his leg into the net. Good for him. Suddenly it was no different than any of our other young guys; when you haven't scored in a while it's kind of like energy. I thought he played real well after that and obviously they had a tough matchup tonight. I thought they did a real good job.
On Kadri finding a way to contribute despite not scoring:
No question about that. He contributed for sure. Naz is one of the guys on the team that nothing bothers him, he just goes about it. When you haven't scored in a while, you know you haven't scored in a while, you'd like the numbers to go up. It's like anybody – everybody likes to score and feel good and feel like they're contributing. Obviously, Naz, with the way he plays, helps us every night anyway whether it be matching up or generating offence. It makes you feel good when you score.
On getting a good start and success on special teams:
I thought that was important for us tonight. I've got a lot of respect for the guys there in San Jose – Pavelski, Couture, Thornton, Vlasic, Burns – those guys are good players and good leaders and have been doing it for a long time. Their team is organized and plays right, they have real good specialty teams. It's not by accident they're starting to really pick up some steam. I was looking – we've lost a bit more than they have. We've got more wins, but they haven't lost very often because they know how to play. It was a good test for us. We need to get going at home, we need to get some momentum. I thought we had good energy the last two games, we've got more energy, but you've also got to get in a rhythm and win.
On Andersen responding after the second San Jose goal:
It's a good thing that he was able to do that. Obviously, there's no sense getting rattled over that. You made a mistake – he didn't mean to pass to them and shoot it in the net. We just scored to go ahead, it's supposed to be 2-1 going into the third and he made that mistake. I thought he did a good job and I thought he did a real good job in the shootout as well. That'll lead to confidence. He's got to get back to work tomorrow and keep grinding.
FREDERIK ANDERSEN (34 SAVES)
On tonight's win:
I think we played really well. It was an unlucky first bounce and obviously a misplay, but I think we played a really good game and stuck with it. Huge win for us to kill off the penalty for Mitch and get it in the shootout.
On the play of the penalty kill in overtime:
It was awesome, those were really good chances to score when you've only got three guys out there on the kill. It was great to have the guys and obviously they were sharp.
On how he recovered from the second San Jose goal:
I think you kind of just play for the guys. They were great in the room and said right away to just forget about it and they were going to battle for me, which they did. I think we're good on this team about picking up each other when someone makes a mistake. We're here to battle for each other and it's great.
On stopping Thornton and Pavelski on a 2-on-1:
If you look at those two you know who's the good passer there and odds are he's probably going to pass it, but I think he was a shooter today. It looked like he wanted to shoot, especially on the power play. In that situation, you just kind of follow the pass over and get in front of it.
NAZEM KADRI (1 GOAL)
On his fight with Joe Thornton:
Yeah, just one thing led to another and not by any means did I really expect that, but things happen… He asked me, he initiated. I felt he came across with the slash to begin and gave me another shot, I just gave him one back. We just started talking going to the wing position and, I mean, he insisted on going. I felt like I answered the bell.
On how he decides whether or not to back down from a challenge:
There's no decision, there's no backing away. It's just how it is. I try to play fearless out there and obviously he's a big boy and, you know, after the fact I probably thought more logically about it. In the moment, you just go with the flow and do whatever it takes.
On how he got tangled in Thornton's beard during the fight:
I have no idea, I ended up with a piece of it in my hand. I have no idea how that happened. I thought I was a hockey player and not a barber. I didn't know what to expect, I didn't mean to grab him there. He's a big boy, I couldn't reach all the way across his shoulder and felt like I just grabbed him in the middle of his jersey and just came down with a handful of hair.
On having to watch the first five minutes of the game from the box:
That's never fun, that's probably the worst part about it – I had to sit and they got a power play right after. I was kind of ice cold to start the game but I felt like that fired my teammates up and got everybody engaged and into the game. Luckily it worked.
On scoring his first goal since Nov. 30:
It's great, it's great. I knew I just had to stay patient. I'm playing with some great players that are looking for me and trying to get me out of that slump. I was able to just react quick enough to direct that puck towards the net and it happened to go in. Those are the bounces you wait for, that's what you've got to be patient for and got to be positive about. Eventually those plays are going to happen.
PATRICK MARLEAU (18:26 TOI)
On tonight's game:
It was a good battle out there all night long. We stuck with it and found a way.
On hitting the post in the shootout:
Yeah, it was an inch the wrong way but definitely had the opportunity to make a difference.
On the opening faceoff fight between Kadri and Thornton:
I didn't see that coming but they both did a good job.
On the importance of shutting down losing streaks and the effort tonight:
Yeah, I think so. We were ready right from the drop of the puck as you could see with Naz and then just sticking with it for a full 65 and then finding a way in the shootout.
On the penalty kill in overtime:
Just wanted to kill it off, get the puck down as much as you can and they did a great job again.
AUSTON MATTHEWS (1 GOAL)
On the team's penalty kill being so important tonight:
Yeah, I don't know if we want that to be the case all the time but, I mean, we definitely need to stay out of the box. Our penalty kill was huge tonight and definitely gave us some momentum.
On the fight two seconds into the game:
[Nazem Kadri] isn't afraid of anybody. You've seen him fight some guys who are a lot bigger than him and he definitely holds his own, so I think the way we look at it is that it kind of gets everybody going. He's one of our key players so when you see somebody – especially off the start – drop the gloves with a big guy like Thornton it kind of gets everybody going.
On Kadri holding his own during the fight:
He's a strong guy. We don't call him the moose for nothing. He knows what he's doing out there.
On if the team needed a start like that after Tuesday's loss to Tampa Bay:
Yeah, definitely. We needed to get out there, and we like those optional skates, so being able to come out on time and start the way we did definitely helps. When we do that and we get them back on their heels it definitely favours us so we just continue to do that.
On if having an optional skate has an outcome on the start of the game:
I don't know. I guess the time's we've had optional skates we don't start very well but I think tonight was obviously a different case. When you skate the day before, maybe just to have that option is kind of nice. Either way, we've got to make sure we're ready for the game.