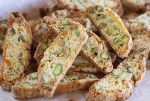 Pistachio Biscotti
Ingredients:
• 2 cups pistachios
• 1/2 cup unsalted butter
• 3 eggs
• 1 cup sugar
• 1 teaspoon vanilla extract
• 3 1/2 cups all-purpose flour
• 1 teaspoon baking powder
• 1/2 teaspoon salt
Directions:
1• Preheat the oven 350 degrees F.
2• Put the pistachios on a cookie sheet. Bake for 10 minutes or until the pistachios are lightly toasted. Remove from the oven.
3• In an electric mixer, beat the butter until fluffy.
4• With the mixer running, gradually add the eggs, sugar, and vanilla; mix until creamed.
5• Add the flour, baking powder, and salt. Mix the dough until smooth. Using a wooden spoon, mix in the pistachios until evenly distributed.
6• Put the dough on a lightly floured surface and cut in half.
7• Roll each dough half into a log, each about 10 inches long by 1-inch high.
8• Place the logs on an ungreased cookie sheet and bake for 30 minutes or until the bottoms are lightly brown.
9• Let the logs cool for 5 minutes and then place on a cutting board.
10• Slice each log on a diagonal into 12 1-inch thick pieces.
11• Put the cookies back on the cookie sheet and bake 5 minutes. Turn the cookies over and bake the other side for another 5 minutes.