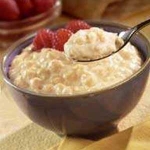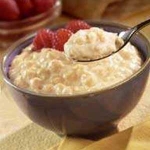 Rice Pudding
Ingredients:
• 2 1/2 cups milk
• 1 cup heavy cream
• 1 vanlila bean, split
• 1/4 cup white sugar
• 1/4 cup ground cinnamon
• pinch of grated nutmeg
• 1 tablespoon grated orange zest
• 2/3 cup raisins
• 2 tablespoons sweet marsala or cognac
• 1/2 cup of aborio rice
Directions:
1• Add the milk, heavy cream and vanilla bean in a saucepan and bring to a boil and then remove from heat.
2• Add the sugar, cinnamon, nutmeg and orange zest and set aside.
3• Put the raisins and cognac (or sweet marsala) and leave to soad for a few minutes.
4• Add the rice to the milk, heavy cream and vanilla bean mixture and return to heat. Bring to a simmer and stir slowly for about 30 minutes or unitl the mixture is creamy.
5• Stir in the rasin mixture and remove the vanilla bean at the end.
You can serve warm or cold – 4 servings