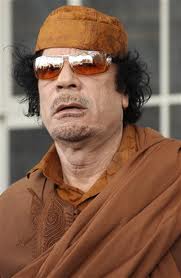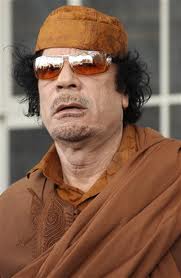 The winds of change have arrived. The BBC is reporting that the city of Benghazi is largely under the control of protesters. Col Gaddafi's son, Saif al-Islam, in a lengthy TV address, has acknowledged that the eastern city of al-Bayda had also fallen to the opposition. VOA News is saying that several government buildings were ablaze Monday after gunfire erupted in Tripoli when anti-government protesters tried to seize control of the capital's center from Gaddafi loyalists. Along with these developments, it is reported that a representative of Libya's powerful Warfla tribe said it has turned against Muammar Gaddafi and is siding with the opposition. Several Libyan diplomats also quit in protest at the government's violent crackdown, including the Libyan representative to the Arab League and the Libyan ambassador to India.
U.S.-based rights group Human Rights Watch said Sunday at least 233 people have been killed in several days of Libyan unrest, mostly in the eastern city of Benghazi, where the initial protests started. Medical staff in the city had said that at least 50 people had been killed when security forces opened fire on several funerals meant to honour those who had died in the protests earlier in the week.
On state television Sunday, Saif al-Islam proclaimed that his father remains in charge with military support however reports from Benghazi have said that some military have sided with the protesters. This is looking to be the most serious anti-government revolt since the elder Gaddafi took power in a 1969 coup and while Saif al-Islam Gaddafi vowed that the government will fight until "the last man, the last woman, and the last bullet" to stay in power, there is a groundswell of support for the protesters.
Apparently wagging his finger in a rambling address, Saif al-Islam insisted that Libya is "not Egypt or Tunisia" and that if Libyans do not stop the uprising, they risked starting a civil war. He went on to blame the protests that erupted in eastern Libya last Monday on a variety of culprits, including Libyan exiles, Islamists, foreign media, and drug abusers.
Internet and some telephone services have been cut in the country as the government tries to blackout communications. Nevertheless foreign media are getting reports out using satellite phones and other connections providing eye-witness accounts of the unrest in the country.
In the latest report from Britain's Telegraph, medical sources are quoted as saying 61 people had been killed in the latest protests in Tripoli on Monday. Security forces were looting banks and other government institutions in Tripoli, and protesters had broken into several police stations and wrecked them. The building where the General People's Congress, or parliament, meets when it is in session in Tripoli was on fire on Monday morning. Demonstrators also ransacked the headquarters of Libyan state television.
Opinion
Saif al-Islam blames the protests that erupted in eastern Libya last Monday on a variety of culprits, including Libyan exiles, Islamists, foreign media, and drug abusers. He failed to mention anything about his father's dictatorship over the past 40 years as a possible contributing factor to the population's discontent. The per capita income of the country is around $10,000, a lot higher than Egypt's $2,700, but a lot less than Canada's $40,000. Discontent? I wonder why?
Wikipedia's article on Libya says this on human rights:
According to the US Department of State's annual human rights report for 2007, Libya's authoritarian regime continued to have a poor record in the area of human rights. Some of the numerous and serious abuses on the part of the government include poor prison conditions, arbitrary arrest and prisoners held incommunicado, and political prisoners held for many years without charge or trial. The judiciary is controlled by the government, and there is no right to a fair public trial. Libyans do not have the right to change their government. Freedom of speech, press, assembly, association, and religion are restricted. Independent human rights organizations are prohibited. Ethnic and tribal minorities suffer discrimination, and the state continues to restrict the labour rights of foreign jobs.
In 2005 Freedom House rated both political rights and civil liberties in Libya as "7" (1 representing the most free and 7 the least free rating), and gave it the freedom rating of "Not Free".
Former President Ronald Reagan once called him "the Mad Dog of the Middle East" and in an event I had forgotten about, in 1986 unleashed air raids against Tripoli in response to the bombing of a Berlin disco frequented by U.S. servicemen, an attack Washington blamed on Libya. Just how nutty is Gaddafi? Imagine that in October 2008, Libya paid $1.5 billion into a fund to compensate the relatives of the Lockerbie bombing, American victims of the 1986 Berlin discotheque bombing and American victims of the 1989 UTA Flight 772 bombing.
The time has come.
Al Jazeera – Feb 20/2011
Death toll rises in Libyan unrest
Libyan leader Muammar Gaddafi is confronting the most serious challenge to his rule in 42 years. Government forces have been unleashed onto protesters in the eastern city of Benghazi, where one hospital official put the death toll at 200.
References
Wikipedia: Bombing of Libya
The United States bombing of Libya (code-named Operation El Dorado Canyon) comprised the joint United States Air Force, Navy and Marine Corps air-strikes against Libya on April 15, 1986. The attack was carried out in response to the 1986 Berlin discotheque bombing.
Wikipedia: 1986 Berlin discotheque bombing
The Berlin discotheque bombing of April 5, 1986 was a terrorist attack on the La Belle discotheque, West Berlin, Germany, that was frequented by U.S. soldiers. A bomb placed under a table near the DJ booth exploded at the club, killing a Turkish woman and two U.S. sergeants and injuring 230 people, including more than 50 American servicemen. Nermin Hannay and Kenneth T. Ford were killed instantly, and James E. Goins died two months later. Of the injured victims, some were permanently disabled.
Wikipedia: Muammar al-Gaddafi: Internet Dissent
In October 1993, there was an unsuccessful assassination attempt on Gaddafi by elements of the Libyan army.
Click HERE to read more from William Belle
Article viewed at: Oye! Times at www.oyetimes.com