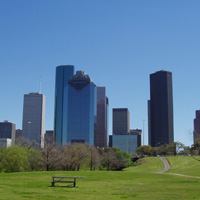 Charges have been filed against a suspect in the fatal shooting of a man at 8001 Fulton about 10 p.m. on October 3, 2000.
Javier Gutierrez (H/m, DOB: 4-26-77) was charged with murder in the 176th State District Court on October 4, 2000. He is currently incarcerated in the Texas Department of Corrections for robbery under the name Francisco Javier Gutierrez.
He is accused in the death of Cruz Puebla, 42, of the above address, who suffered gunshot wounds to the abdomen.
HPD Homicide Division Sergeant A. Carrillo and Senior Police Officers D. Vasquez and F. Martinez H. Chavez reported:
Mr. Puebla and Gutierrez got into an argument in the parking lot of the above address for unknown reasons. When the argument escalated into a fight, Gutierrez produced a pistol and shot Puebla several times. Gutierrez and another male fled the scene on foot. The victim and suspect were previously acquainted with one another and were from the same hometown in Mexico.
On Monday (May 2) investigators interviewed Gutierrez, who subsequently confessed to his role in the shooting that happened 11 years ago.