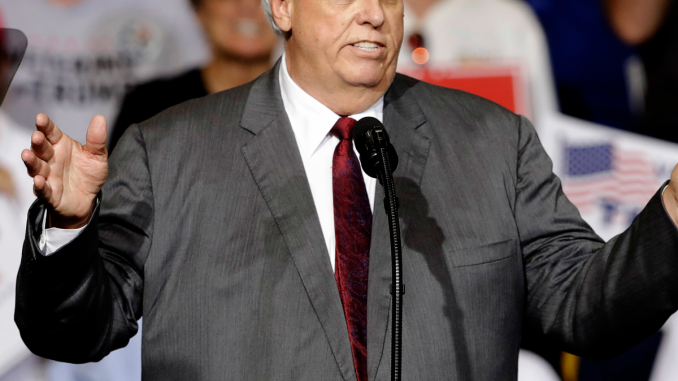 During Donald Trump's visit to the increasingly conservative state on Thursday, West Virginia Governor Jim Justice announced that he's switching parties to join Republicans, the New York Times reports. Justice's defection leaves Democrats with just 15 governors among 50 states.
The governor told about 9,000 Trump supporters at a rally in Huntington that he will be changing his registration Friday. Justice, who recently visited the White House twice with proposals on manufacturing and coal, told the crowd that neither he nor Trump are politicians, explaining that they both ran for office to get something done.
"This man is a good man," Justice said of the president. "He's got a backbone. He's got real ideas. He cares about America. He cares about us in West Virginia."
Trump added that he and Justice spoke a few weeks ago about working together to open coal mines and create jobs in furniture manufacturing and other forms of manufacturing. "But Gov. Justice did something else very important tonight. He showed the country that our agenda rises above left or right," he said.
Justice was elected in November with just 49% of the vote, 20 percentage points behind Trump's total in the presidential contest in the state. Trump won 77% of West Virginia's Republican primary voters in May.
The president promised throughout the campaign to resurrect the lagging coal industry that has declined amid changing energy markets, leaving many West Virginia communities devastated. The industry and many of its workers have blamed the decline mostly on former President Barack Obama and his environmental policies.
In West Virginia, his jump is another blow for Democrats in a state they once ran without opposition. Senator Joe Manchin and state treasurer John Perdue will be the remaining statewide elected Democrats. Manchin is up for re-election in 2018, one of 10 Democratic senators running in states Trump won, a dynamic that gives Democrats an uphill path to reclaiming a Senate majority.
Manchin said he'll always be a West Virginia Democrat and that he was disappointed by Justice's decision. However, he made clear that he'll work with anyone regardless of party affiliation to benefit West Virginians.
Elected in his first run for statewide office, Justice is a 66-year-old businessman whose family owns farms and coal mines. He largely funded his own campaign against then-West Virginia Republican Senate President Bill Cole. Justice, who has publicly spoken about his friendship with the Trump family, hosted Donald Trump Jr. for turkey hunting and trout fishing earlier this year.
Justice has turned his daily business operations over to his children during his time as governor. He battled the Republican-controlled legislature in his first year to limit budget cuts to Medicaid and to state colleges and universities, sometimes with public theatrics like bringing cow manure to a press conference.
He said Thursday that it was the defection from his positions by minority Democrats that resulted in outcomes that hurt people. He said both his parents were staunch Republicans.
"Today I tell you as West Virginians I can't help you any more being a Democrat governor," he said.
Republican House Speaker Tim Armstead said the increases in Republican registration and elected officials show people in the state want change. "We welcome all West Virginians to the Republican ranks," he said.
"We're eager to work with Gov. Justice to apply our team's conservative principles to the executive branch and make a clean break from the status quo that has dominated the previous two administrations," Senate President Mitch Carmichael said.
West Virginia Democratic Party Chairwoman Belinda Biafore said Justice became a Democrat because they care about people, but then took advantage of them by taking their money and votes.
"I think we can all guess just who he cares about by his decision today and it's not the people of West Virginia," she said.
Senator Shelley Moore Capito, a Republican, said her party represents the state's future and she's ready to work with Justice to grow the economy and fight for energy jobs.
In the national debate over health care, Justice expressed worries about future health coverage for 175,000 West Virginians in the expanded Medicaid program under the Affordable Care Act, but declined to push to repeal and replace "Obamacare." He said he believes Republicans and Democrats will "get it right" when they work together to overhaul the law.
Rep. Evan Jenkins, who switched from Democrat to Republican and won a U.S. House seat in 2014, said at a meet-and-greet in Huntington before the rally that "so many people in recent years have switched from Democrat to Republican, and if Jim Justice is making the switch, I welcome him to the Republican Party."
Jenkins is now running for Manchin's seat.
When he announced his candidacy in May 2015, Justice said he wanted to put aside partisan politics and that he had changed his party registration multiple times.
"I am much more suited to be a Democrat because I truly want to be the person who is trying to take up for the little guy," he said at the time.
Click HERE to read more from Refinery29.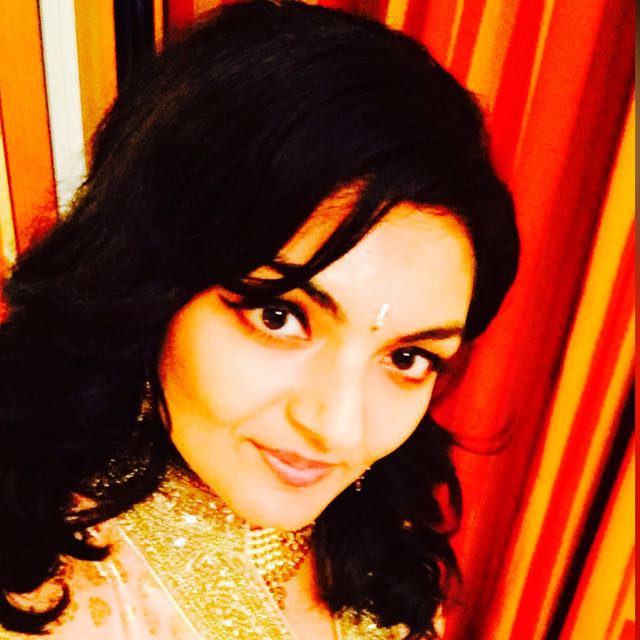 Vote for Shikha Dhingra For Mrs South Asia Canada 2017 by liking her Facebook page.


Loading ...