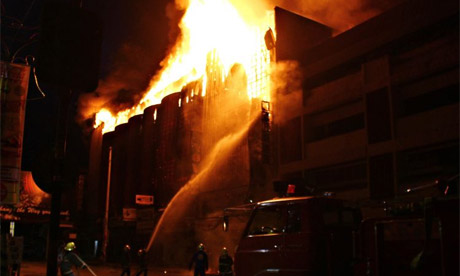 17 workers have been killed in the fire that erupted in a clothing store in southern side of Philippines on Wednesday.
According to the officials, most of the workers who died at the store were females who were sleeping at the time the fire broke out and were trapped inside. The clothing shop was located in Butuan and had three stories. The fire continued to blaze for about five hours. The chief of the city police, Pedro Obaldo, said informed that 17 dead bodies have been recovered from the remains of the building. According to the information provided by the staff of the store, about 20 female workers were sleeping inside the store at the time the tragic incident took place. 3 workers managed to escape the fire. He also said that quite a few stores in Philippines allow their workers to sleep in the stores at night, especially to those who live at a significant distance.
Friends and family members of the workers kept standing outside the store waiting for their loved ones to be rescued but were asked to identify their beloved from body bags lying outside the store after the fire.
One of the lucky store employees who succeeded in attempting to escape the fire, Mylene Tulo, said that she got up as the fire reached the third floor of the store where all the employees were sleeping and managed to run for her life, along two other colleagues, before the fire caught them. They only received minor burns and rashes. She said, "We wanted to rouse others from sleep, but the fire was already too strong."