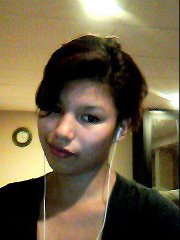 The Winnipeg Police Service is requesting the public's assistance in locating a 16 year old female, Robin Redhead, who was last seen on October 29th, 2011. Redhead is known to frequent the downtown area of the city.
Redhead is described as: Aboriginal, 5'06" tall, 120 lbs., thin build, light/fair complexion, pimples/pockmarked face, brown eyes, brown hair (puffy on top) and shaved at the back.
She was last seen wearing pink/grey sweatshirt, blue jeans and black runners.
Investigators are concerned for Redhead's wellbeing.
Update: Redhead has been safely located