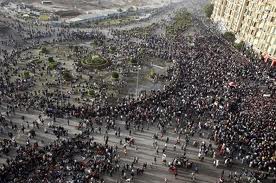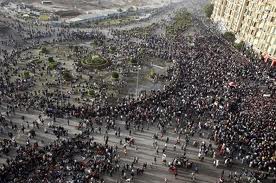 Latest updates as of Feb 2/11 at 11:30am EST (4:30pm UTC/GMT)
BBC – Feb 2/2011
The BBC talk with Cambridge student Raph Cormack who is studying Arabic at The American University for the past 6 months. He has been venturing out to experience the protests first-hand.
Al Jazeera – Feb 2/2011
Protests in Cairo turn violent
Female anti-government protester telling Al Jazeera that they cannot leave the square even if she wanted to – she is crying on air and sounds very scared and emotional. Telling Al Jazeera not to refer to the pro-government group as "demonstrators" because they are actually "violent thugs".
http://www.youtube.com/watch?v=AqoRzSkmX88
Anderson Cooper describes how he and his crew were attacked by pro-Mubarak supporters.
Protests are continuing into their ninth day however there may be signs the peak is over. The military which has been supportive of the demonstrations and promising not use violence, has said it has heard the message and understands the concerns of the protesters but is now urging people to go home and get things back to normal.
CNN quoted
the Egyptian defence ministry on Wednesday in a TV broadcast on state media as saying "Your message is received … (your) demands became known. And we are here and awake to protect the country for you … not by power but by the love to Egypt. It is time to go back to normal life. You have the power to allow Egypt to return to normal life. We are with you. We will continue to secure our country."
The question now is whether or not the people will heed the call. Will they believe change will occur? Mubarak has stated that he will serve out his term which ends this September. In his televised speech of Tuesday evening he said (CNN:
Transcript of Mubarak's speech
– Tuesday, February 1/2011):

I was not intent on standing for the next elections
…
in the next few months of the remaining of my current reign I will work very hard to carry out all the necessary measures to transfer power.
…
I call on the parliament, the people's assembly and the shura consultative council to amend articles 77 and 76 of the constitution to pave the way for elections and to specify periods for presidential terms.
Is this satisfactory? Will this placate the people? CNN is reporting that the crowds in Tahrir Square are noticeably smaller on Wednesday than Tuesday, the day of the million man march. There have also been reports of some pro-Mubarak demonstrators.
State media have apparently reported that the internet was restored to all provinces in Egypt and that the government-imposed curfew has been relaxed slightly, now set for 5 p.m. Wednesday to 7 a.m. Thursday. Banks have been closed throughout the demonstrations and many shops have run out of goods. However, today, Wednesday, it was noted that more banks are opened and some shops may be getting restocked.
How bad were the demonstrations? Videos taken during the protests showed police sometimes reacting violently towards the people in the streets. One video showed a student being shot and killed. U.N. High Commissioner for Human Rights Navi Pillay said that unconfirmed reports suggest up to 300 people may have been killed during the protests. Human Rights Watch has supposedly reported 80 deaths from two hospitals in Cairo, 36 in Alexandria and 13 in Suez. None of this can be confirmed but videos would suggest there will be stories coming out in time of just how out of control some of the confrontations between protesters and the police were. Someone was wise to take a different tactic by sending in the military but with instructions to follow a peaceful approach to maintaining order.
The winds of change are spreading
Tunisia's repressive government falls after more than 20 years of authoritarian rule characterized by widespread corruption, human rights violations and other forms of repression. However, the spark which lit the fuse on this surprising turn of events occurred on Dec. 17, 2010, in of the central Tunisian city of Sidi Bouzid, when an impoverished street vendor, confronting the sheer hopelessness of his situation, set himself ablaze. Within weeks, a once seemingly indestructible regime was toppled. The self-sacrifice of this one man against his fate, the idea of change being possible has spread across the Middle East and now unshakeable regimes are wobbling like a series of dominos. Enough is enough. We want change and we want it now.
Yemen
President Ali Abdullah Saleh has ruled the country for three decades but unprecedented protests inspired by Tunisia have taken place in the country and are rocking the status quo. In a gambit to stave off anti-government turmoil spreading in the Arab world, Saleh has announced that he will not seek re-election once his current term ends in 2013. This concession may be a step in the right direction, but opposition groups are saying this is merely a diversion tactic; Saleh has made such promises of democratic reform before but done nothing. Whatever the case, events in Tunisia and now in Egypt are sending a clear signal to Saleh and the current government that change is in the air and the people are not going to sit quietly for a fourth decade.
Associated Press – February 2, 2011
Yemeni President Says He Won't Seek Another Term
Yemen's president has told parliament he will not seek another term in office or hand power to his son, an apparent reaction to protests in his own country that have been inspired by the turmoil in Egypt. (Feb. 2)
http://www.youtube.com/watch?v=PatZJ03udZ4
Jordan
Three weeks of street protests over rising prices, inflation and unemployment have spurred King Abdullah to sack Prime Minister Samir Rifai from his post along with his cabinet. In his place, the king has appointed Marouf Bakhit, an ex-army general and the former ambassador to Israel. However opposition groups consider Mr Bakhit to be part of an establishment that has not seriously tackled Jordan's promised economic and political reforms.
Mr Bakhit served as Jordan's prime minister in 2005, after the triple hotel blasts in Amman that November that killed 60 Jordanians, mainly Muslim women and children. Critics have pointed out that he did not achieve many of the promised reforms during his last tenure and they question what he will accomplish this time around.
Some protesters want to see the re-introduction of a supply ministry. In the past, this institution helped to regulate prices of local commodities and it could curb sharp price rises under Jordan's nascent open-market policies.
Rising global prices have badly affected economies in Jordan, Egypt and Tunisia sparking the protests. Jordan itself has an economy weighed down by a record deficit of £1.2bn ($2bn) and unemployment tops 12%. Mr Rifai had announced a $550m package of new subsidies for fuel and basic goods like rice, sugar, heating and cooking fuel. In addition he also offered raises for civil servants and security personnel but critics stated the measures did not go far enough.
Is the monarchy in jeopardy? Apparently Jordanians abide by the institution of monarchy but do not necessarily agree with the king's policies. Recent protests may have inspired the king to move forward in the direction of change but did he do enough to quell the anger? Protesters have brought up the idea of a constitutional monarchy in the future where popular elections are held for the prime minister and cabinet posts.
Euronews – February 1, 2011
Jordanian King appoints new PM
Jordan has a new prime minister. King Abdullah asked the conservative former PM Marouf Bakhit to take over from Samir Rifai, who was the target of yet more popular unrest that is sweeping the Arab world.
http://www.youtube.com/watch?v=txJz9rnqnDo
Click HERE to read more from William Belle.