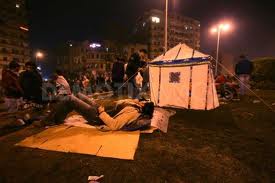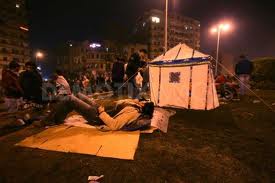 As the country is now in the midst of day 14, Tahrir Square has apparently taken on the characteristics of a tent city. However, elsewhere, life in Egypt may be getting back to normal. Some major companies are back to work. Municipal workers set to cleaning up some of the mess in the square removing rocks and broken glass plus spent ammunition. The Washington Post reported that Mr. Mubarak's cabinet met and decided to give government employees a 15% raise in salaries and pensions. The dangers of last week seem to be dissipating. The curfew had been shortened to 8pm to 6am.
Omar Suleiman, Mubarak's key lieutenant and possible successor, on Sunday tried to appease the opposition groups by inviting them to talks about democratic reform. So far, there seems to be no takers but there is talk in the air that both sides may be softening their positions. The Muslim Brotherhood has been reported to be now interested in participating in a dialogue with government but reiterated their stance that Mubarak must step down immediately.
The question abroad, especially in relationship to the United States is just how fast a transition from essentially a dictatorship to a democracy can be implemented. The protesters are very wary of the U.S. looking upon them to a certain extent as having contributed to the support of the regime they are trying to bring down. They want Mubarak gone immediately; the U.S thinks this can't be done overnight and Mubarak may have something when he says that leaving right now could just plunge the country into chaos. True? False? The demonstrators are both adamant and impatient. Anything else looks like a stall tactic and considering how over the years Mubarak himself has promised democratic reforms but never delivered, who can blame them for being doubtful if not suspicious.
The main point is this. Tahrir Square is still full of demonstrators. They are not backing down. They seem determined to go the distance. Egypt is going to change; tomorrow is not going to be the same as yesterday. What does this mean for the Middle East? Only time will tell.
Associated Press – Feb 6/2011
Egypt Makes New Concessions to Opposition

Egypt's vice president met a broad representation of major opposition groups for the first time Sunday and agreed to allow freedom of the press, to release those detained since anti-government protests began nearly two weeks ago. (Feb. 6)
http://www.youtube.com/watch?v=TES-TGvAgLA
The Montreal Gazette
Long road home from Egypt
By Doreen Jackson, Citizen Special February 7, 2011

This lady's personal account of being a tourist right now in Egypt described as: "We came for the temples, ancient ruins and Nile breezes. We got that and much more … a ringside seat to social upheaval and anarchy." I personally visited what this lady talks about but I did it in February 2010 during a period of calm. It is interesting to compare notes with her experiences realising what risks she may be facing showing up in Egypt during this period of political crisis.

http://www.montrealgazette.com/news/Long+road+home+from+Egypt/4234088/story.html

RT America – Feb 6/2011
US unsure about 'new' Egypt

After days of wild clashes in Egypt between protesters and regime supporters that killed 11 people this week, the US still remains uncertain on their position towards Egypt. What will the United States' policy be towards a 'new' Egypt? Investigative Journalist, Wayne Madsen says Egypt has been the US' major ally other than Israel in the region and they want to be assured no 'smoking gun' evidence will come out under a reformed government.
http://www.youtube.com/watch?v=-7sfi5ZGOOo
Click HERE to read more from William Belle.
Article viewed at: Oye! Times at www.oyetimes.com