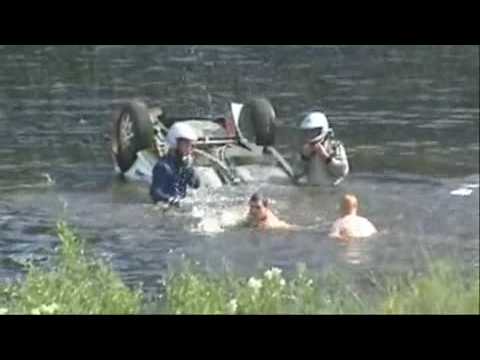 I was idling clicking around the Internet and ran into some funny slash horrifying slash strange car crashes during some rally races.
Off the road and into the drink – July 2009
I have no idea what happened but for whatever reason, the driver of this car goes straight off the road and into a pond.
Rally car hits horse – August 2009
The commentary is in Spanish – good luck with that – but what's amazing is that the car hits a horse. A horse! And wow, does that animal go sailing.
Top 30 Rally Crash 2009 – October 2009
All I can say is, "Ouch!"
http://www.youtube.com/watch?v=2Xj_xyYKLJ0
Latvala Horror Crash – Portugal Rally 2009 – April 2009
This is just unbelievable. These guys driving are absolutely freakin' nuts and it's incredible that reports say the two guys are okay.
I'm sorry I couldn't find a copy of this video without the music but it turns out this is the best video of the crash.
This car is driving like a bat out of hell when they cut inside a corner and roll the car. Unfortunately, they roll down the side of a really steep hill and they roll and they roll. Gawd, they're okay after this? Amazing! No way I'm going to try this.
http://www.youtube.com/watch?v=Xc58k3iqB3Q
Click
HERE
to read more from William Belle
Article viewed at: Oye! Times at www.oyetimes.com