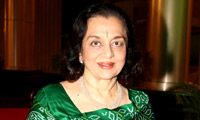 You can publish this article on your website as long as you provide a link back to this page.
This article was last updated on April 16, 2022

Asha Parekh and Saira Banu remember their friend and co-star Joy Mukherjee…
Asha Parekh: "We did four films together; Hum Hindustani, Phir Wohi Dil Laaya Hoon, Ziddi and Love In Tokyo and all of them were super-hits. I am happy to see it was a 'Joy' working in these films. He was a hassle-free fun-loving co-star, kind and considerate. But he also had a habit of coming late on the sets, which I soon got used to. When we did Hum Hindustani together in 1960, he was a newcomer and I already had done films. Joy and I didn't have any scenes together in Hum Hindustani, so we barely met. When we did Phir Wohi Di Laya Hoon it was a different story. We had a ball shooting the film in the lovely outdoors. I suppose it was the picnic mood of the film and all those 10-11 terrific O.P. Nayyar songs. I remember when we were shooting for my solo song 'Aankhon Se Jo Utri Hai Dil Mein', we were running out of raw stock (film). Joy went out of the way to complete the song before the day was over. We shot Love In Tokyo in Japan. I think ours was the first Hindi film to be shot there. Again, shooting was like a picnic.
Joy and I did a lot of sightseeing. I remember he threw a party on the last of shoot in Japan. A funny thing happened during the shooting of our last film together Ziddi. Joy was supposed to pick me up forcibly, and throw me on the bed. He, poor thing, didn't realize there was no mattress on the bed. I landed on the bed with a thud. My back was gone, I couldn't get up for days. Yeh sab chalta hai. It's all part of entertainment business. The sad thing is, Joy went too early. He was in his 60s. I believe he wasn't keeping good health. He should have looked after himself. I met him for the last time in October 2011 in Kashmir. We were all there for a function. He wouldn't even come out of the car. He screamed after me to come home. I wish I had taken up the invitation."
Saira Banu: "Joy gone! It's so hard to believe… Just a week back I had sent him and his wife Neelam pictures that I had taken when they had come to the get-together at our home. He had become so overweight he had to be carried inside. Kya ho gaya Joy ko? His whole family used to be so much into fitness. Joy's father the great filmmaker Sashadhar Mukherjee was keenly into physical fitness. He had an akhaada (wrestling ring) in his home. I think after Sashadhar Saab's death, Joy just gave up. He let himself go to such an extent that his wife Neelam had no control over his diet. She tells me she'd give him healthy food at home. He would then leave home with his driver to go and have all the unhealthy junk food like samosas and what have you. Such is life, I guess. When you are hell-bent on self-destruction nothing can stop you. I can still remember his ever-smiling face. It's hard to believe he's gone. Joy and I were buddies. We did so many films together that we would look at each other's faces on the first day of shooting and groan, 'Not you again!' Our most successful film together was of course Shagird. The director Subodh Mukherjee made Joy go on a special fitness regime for this role, just as he made Shammi Kapoor do when we did Junglee together. So Joy was fitter than ever in Shagird. By then I had gotten married to Yusuf Saab. So on the first day of shooting Joy said he hoped I will learn some acting, now that I was married to the God of acting. I was livid. 'Joy ke bachche!' I screamed at him. That was the kind of relationship I had with him. We could scream at one another and fight. But at the end of the day we were friends. I've seen girls swooning over Joy. I could never understand why. I never looked at him that way. Yusuf Saab and I visited him in hospital just a few days ago. We were told he was on the road to recovery. And now, this."