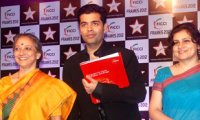 This article was last updated on April 16, 2022
Canada:

Oye! Times readers Get FREE $30 to spend on Amazon, Walmart…
USA:

Oye! Times readers Get FREE $30 to spend on Amazon, Walmart…

Our filmmakers in Bollywood have many-a-times had a tussle with the Censor Board of Film Certification (CBFC) over various issues. Hence, it was rather apt to have a session on 'Censorship in India: Challenges and the Way Forward' at FICCI-Frames 2012. The session was moderated by filmmaker Karan Johar while the panelists consisted of filmmaker Ramesh Sippy, Leela Samson (Chairperson of CBFC) and Pankaja Thakur (CEO of CBFC).
Leela Samson in her Keynote session said, "The CBFC has always walked on a tightrope between filmmakers who cry for freedom and public who have moral issues. Our society is constantly evolving and therefore there is a need to change the norms and rules of the CBFC as well from time to time. Last year, after the Aarakshan fiasco, it was heartening to hear a judgment passed by the Supreme Court that the CBFC is the final authority as far as deciding what film is suitable for public exhibition. We have a new looking board that functions independently of political bias. There are a lot of new changes and initiatives that we are looking at such as digital certification etc. Recently we also started a trend of incorporating warning on the posters and publicity material of certain films which may have got a U/A certificate but requires Parental Guidance for specific reasons. For eg. The posters of Agneepath had a warning which said: 'Parental Guidance advised due to excessive violence'. This is quite a common trend in the West and we thought it would also benefit out here."
When Karan Johar asked Pankaja Thakur what are the various issues and challenges faced by the CBFC, Pankaja replied, "One of the main challenges that we at CBFC face is that filmmakers come to us very late while applying for a censor certificate for their respective films. It's very difficult for us to certify a film properly in such a short time, sometimes on 48 hours, and the problem becomes even more serious if there are certain cuts required to be made. I request all filmmakers to come ahead much in advance so that it's beneficial for all concerned. Moreover a filmmaker should know the kind of audience he/she is making the film for. There is a myth that A rated films don't do well at the Box Office. If you see a film like Delhi Belly, it was given an A certificate without any cuts, as it's aimed at a mature audience but yet the film went on to do good business."
Karan Johar said, "There are issues that need to be taken collectively by the film fraternity. This is an on-going debate. There will always be morality issues in a country like ours. However it's good to know that no state govt. can now stall a release of a film that has been cleared by the CBFC." Karan also added, "It would make sense to also have ratings based on age like PG-12, PG-15 and 18+ like they have in the West. It would give a lot more clarity rather than simply giving a U/A certificate." Leela Samson and Pankaja acknowledged Karan's suggestion and said that the CBFC is working towards something like that and a clearer picture would emerge shortly.
Ramesh Sippy, who has been closely involved with the CBFC in the past said, "Censorship is such a complex area that being on either side is not good. It is really difficult to put together rules that will make everyone happy. We as filmmakers do feel deprived at times unable to express our creative freedom but we need to realize that our society still has to mature and evolve a lot. We need to be sensitive to the problems of the CBFC. Leela is the right person in the right chair and I'm sure that the changes she has brought about will only benefit us all."
Karan summed it up when he said, "Censorship is a double-edged sword. It's saddening for filmmakers when their creative freedom is tampered with. Recently during Agneepath we had to put a warning about the hazards of smoking right at the bottom of the screen during the 'Chikni Chameli' song. No filmmaker would want such a thing but we have to abide by the laws of the CBFC. Usually all the controversies only come to hamper the big films because even the media knows that these are the films which will make big noise. I remember when KANK released in 2006, a lot of people told me that it should have got an A certificate as it dealt with the topic of infidelity. People were agitatedly telling me, how dare you promote / endorse Infidelity. I told them in clear terms, I am not endorsing infidelity; it's already sold out there in the whole country. I feel that people today clearly know by watching the promos of a film itself, what lies in store. If they don't find it comfortable watching a certain kind of film they shouldn't go and watch it rather than creating a hue and cry about it."

You can publish this article on your website as long as you provide a link back to this page.