The Twitter account of Uday Chopra is often known for the gems that are shared on the platform. The recent one being the Chopra boy's first encounter with the multi-talented Farah Khan. The popular choreographer, on the other hand, known for her quirks, busted the truth behind their encounter that Uday has believed for years or may be not!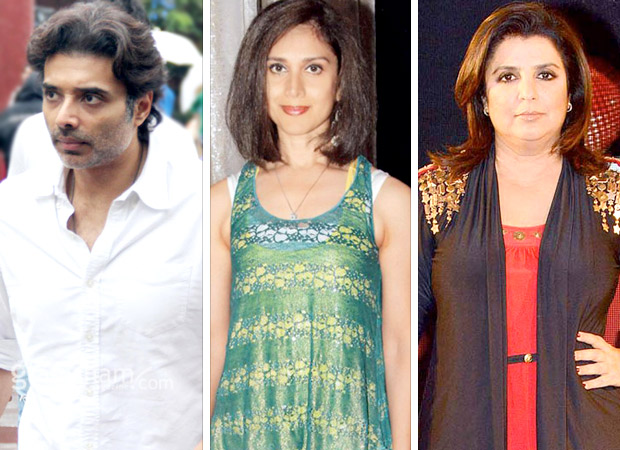 We don't know what really happened that night at the Diwali party when Uday and Farah apparently met for the first time. But we can definitely assure you that we didn't expect the conversation to take such a turn!
The story started with Uday Chopra posting a tweet about how he met Farah Khan for the first time at a Diwali party. While Uday decided to relax after a night of partying, he was obviously shocked to see a girl sleeping on his bed. Later, he probably understood her as Farah Khan and that's what he tweeted on his handle. But his belief was busted when Farah revealed that it wasn't her but Meenakshi Seshadri [for the uninitiated, she was a popular actress of the 90s] and also Farah also went on to clarify that she was sleeping in Adi's bed!
The first time I encountered @TheFarahKhan was at a Diwali party. I was sleepy and wanted to go to bed and when I went to my room she was sleeping there. I ran downstairs and said there's a girl in my bed and everyone said ya that's Farah. Love u farah even though u stole my bed!
— Uday Chopra (@udaychopra) July 1, 2018
Udayyyyy.. that was Meenakshi sheshadri??i went to sleep in Adi's room.. n i Lov u too.. ?? https://t.co/DgJvwDrD4C
— Farah Khan (@TheFarahKhan) July 1, 2018
Ya it was Adi's bed but Adi and I were in one room. We were kids didn't have separate rooms back then
— Uday Chopra (@udaychopra) July 1, 2018
Ohhhhh then I don't know who scared u more.. me or Meenakshi???Dont answer pls https://t.co/FwRYosnX8r
— Farah Khan (@TheFarahKhan) July 1, 2018
I don't remember Meenakshi at all. It was you. Your long legs sticking out of the bed and everybody but me thought it was ok. Yes u scared me
— Uday Chopra (@udaychopra) July 1, 2018
Phew! The conversation definitely didn't go the way we expected! Mistaking Meenakshi Seshadri for Farah Khan is definitely unexpected. And what was further unexpected was when Uday Chopra busted another belief that Farah has been holding true for years – That she slept in Aditya Chopra's bed!
While that was the end of that story, how could the bestie of Uday stop himself from commenting on his friend's 'encounter'. So Abhishek Bachchan too added his 'vishesh tipani' of sorts during this twitter tattle.
Abhishek post:
???????????????????????? typical Uday.
— Abhishek Bachchan (@juniorbachchan) July 1, 2018
Also Read: Farah Khan shares a photo and video album of celebrities on Instagram and here's what it is all about
Click HERE to read more and view the original source of this article.

Loading ...