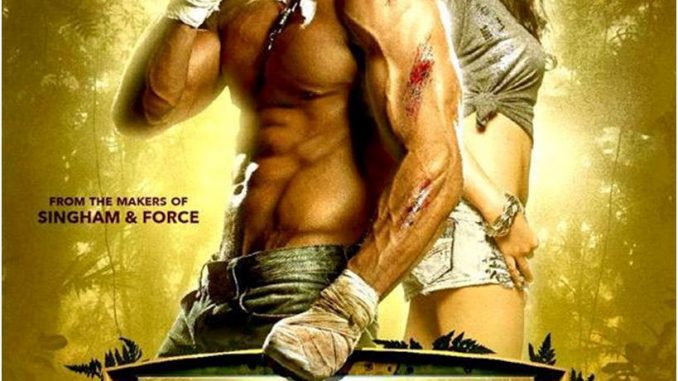 Movie Review
Commando
Cast: Vidyut Jamwal, Pooja Chopra, Jaideep Ahlawat
Directed By: Dilip Ghosh
Review By: Faisal Saif
Ratings: * * * 1/2
Vidyut Jamwal played a Negative Role opposite John Abraham in the movie 'Force'. As an Actor, Vidyut showed his potentials already. In that case, There are no questions on his performance capabilities at all. Those selected Actors who started off as Negative Leads or Villains, They made a huge mark as they became Positive Leads. Vinod Khanna, Shatrughan Sinha, Shah Rukh Khan are few to name. This similar case happened with Vidyut too. He started off as a Negative and Commando becomes his first debut as a Leading Positive Hero.
Commando narrates the tale of Karanvir Dogra (Vidyut Jammwal) who is a commando with the Indian Army. He crashes into the Chinese territory and after being detained for a year in China and termed as an Indian spy, He escapes from the Chinese side and crosses into Himachal Pradesh. As Karan crosses into Punjab, He runs into Simrit (Pooja Chopra) who is escaping from Amrit aka AK47's (Jaideep Ahlawat) clutches. Amrit wants to forcibly marry Simrit. Karan bashes up the goons and in turn takes Simrit along and both of them escapes into Jungles.
Amrit will leave no stone unturned to find out whereabouts of Simrit. And the game of Cat and Mouse begins.
Vidyut Jamwal is marvelous and superb as Karanvir Dogra. He knows very well when he has to act with his eyes and when he has to deliver a line which sound powerful (Even if the line is over-heard many times by other actors). Vidyut Jamwal surely matches up the qualities of Bollywood's next Action Hero. Many of you might term or label him as Indian Sylvester Stallone for sure. Pooja Chopra is cute and charming. She is also a very good actress. Normally, Action Films have hardly anything for a Female Lead. But Commando is a perfect debut for Pooja Chopra. Jaideep Ahlawat already showed his strong presence in his last movie 'Vishwaroop' and that too in front of a Thespian called Kamal Haasan. In Commando too, Jaideep performs amazingly.
Director Dilip Ghosh chose a script that had all potentials of a Masala Entertainer. And he does full justice as a Director. Despite the film is mostly in Jungles, Dilip Ghosh makes you sit tight with making the leads perform some nail-biting and dare devil stunts. Sejal Shah captures the wonderful locations beautifully in his camera and makes you feel a Safari Ride. Musically, The film does not have songs which stays in your memory. But what hits in your brain even after you have left the Cinema are Stunts and Actions.
Commando is an out an out action Masala entertainer that worth's every penny of yours. Go for it blindly for Vidyut Jamwal, Stunts, Camera Work and it's Thrill Ride!!!