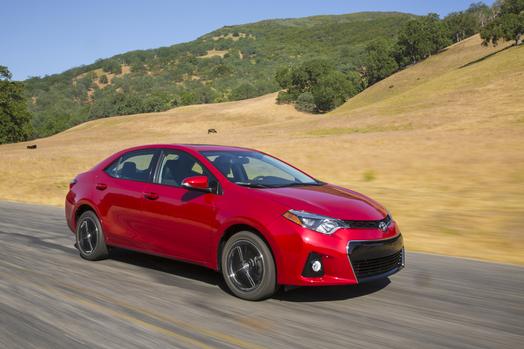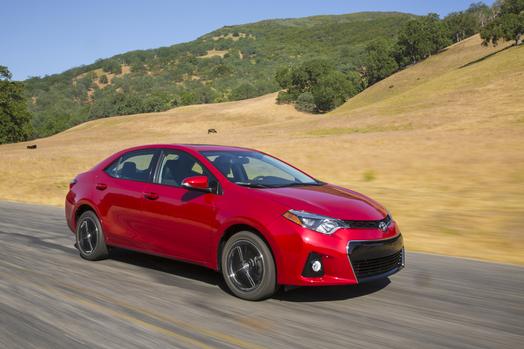 There's a new Corolla coming for 2014, and it just might be cool enough for teenagers to start borrowing their mom's car again.
New Look
Inspired by the Toyota Furia concept car first seen at the 2013 North American International Auto Show in Detroit, Michigan, the 2014 Corolla maintains a strong future-ready design aesthetic while still being vanilla enough for the Corolla die-hard.
A sculpted nose, distinctive headlamps, crisp body lines, notably flared wheel arches all contribute to make this new car stand very much apart from its recent predecessors. A fast sloping roofline that drops to a shorter rear deck coupled with wheels pushed further to the edges of the car create a silhouette that is very much sports car like. From nearly every angle, there's little doubt that the 2014 Corolla is perhaps the sportiest looking Corolla there ever has been.
New and Not-So-New Engineering
In addition to much needed styling improvements, the Toyota Corolla also gets major work done under the skin.
Most appreciable change to the new car comes in the form of an additional 7.5 cm (2.95 inches) for the rear seat area. Toyota make this possible by lengthening the overall profile of the car by nearly ten centimetres, with most of it being concentrated between the wheels. What this also does is create shorter front and rear overhangs allowing for that aforementioned sports car-esque look.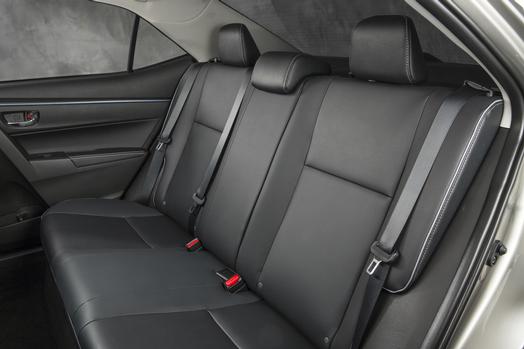 Seeing the need to badge something 'eco', Toyota offers up a 2014 Corolla LE Eco with a modified version of the current 1.8L four banger producing an additional 8 hp and a claimed 5.9L/100km (40 mpg) made possible by better aerodynamics and low rolling resistance tires —GM did very similar a couple years ago with the Chevrolet Cruze Eco.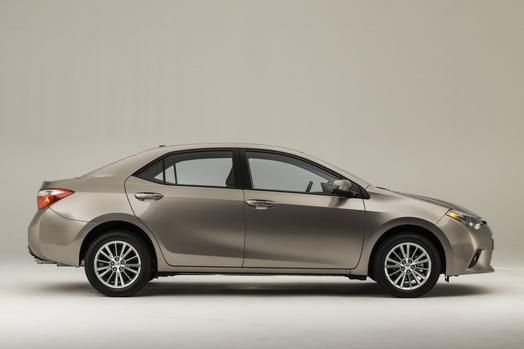 For the rest of the new Corolla lineup, the 1.8L inline-4 motor carries through to 2014 without change. Yes, this motor with 132 hp has been around for nearly a decade, but with the current Corolla still selling so well, why fix what's not broken.
What's really a surprise with the new Corolla is not so much the engine, but the thing that connects to the engine: the transmission. There's a new six-speed manual available for those who can still drive cars properly, but the big news is CVT. Continuously Variable Transmissions are new for Toyota, and although Nissan has been pushing it for a few years, it seems suddenly acceptable now that the Corolla uses one.
Toyota's taken the plain-Jane CVT and added software mimicked shift points, seven to be exact. This means drivers in CVT equipped 2014 Corollas will be able to either paddle-shift –yes, that's new for 2014– or feel pseudo shifts as their CVTs help propel them down the road.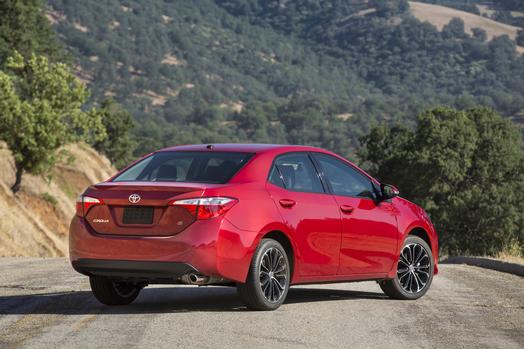 New Corolla, Old Corolla
If you're a first or second generation Canadian, chances are you, or someone in your family has now, or in the recent past owned a Corolla. If you've ever lived in a major metropolitan city, chances are there's at least one Corolla owning household on your street. As for me, my dad's first car was a Corolla, my girlfriend–now fiancée– at 19 drove her mom's Corolla, and I'm sure there are at least a half dozen Corollas in the underground parking lot of my building.
There's no doubt that the 2014 Toyota Corolla looks and sounds mighty promising. With over a million Corollas sold in Canada so far, what'll really make this new Corolla a great car is that nearly everyone will have an old Corolla story to tell.
This 11th generation Corolla will continue to be made in Canada as it has been since 1988.
[Photographs courtesy of Toyota]
Kanishka Sonnadara can be reached by email: kanishka[at]oyetimes.com or found on Twitter @autoKsS
.