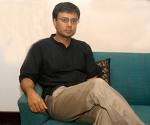 You can publish this article on your website as long as you provide a link back to this page.
This article was last updated on April 16, 2022

Even the process of walking towards the apartment building where Amit Chaudhuri lives involves music. As I approach the block of high-rise flats, I pass the Calcutta School of Music. For four years of my life, this is where I did my bit to learn Western classical piano. Passing below an open window of this veritable institution, I can hear someone going through their Czerny finger exercises.
Music, like a smell, can open up a trapdoor into an old cluttered room. While remembering the trials and tribulations of my piano lessons, I recall my younger self as if thinking of a younger brother. A few minutes later, I press the bell at the door of the Chaudhuris. From being inside a typical Amit Chaudhuri novel, I suddenly find myself in Amit Chaudhuri's eighth floor living room overlooking the Calcutta skyline.
The walls are covered with art work. I also notice a Sahitya Akademi plaque on a mantelpiece. Chaudhuri got that in 2002 for his last novel, A New World. "All credit goes to my mother," says the author in response to my compliment about the décor. "This is all her doing."
Earlier, I had spotted Chaudhuri's mother, Bijoya, momentarily as I waited for her writer son to appear. She had been a singer, performing Rabindrasangeet in her time. Not unlike Mallika Sengupta, I think, one of the protagonists of Chaudhuri's latest novel The Immortals scheduled to be published in Britain next week and next month here in India.
In a way, this new novel is a distillation of the author's double-life as a writer and a singer. While his earlier writings — An Afternoon Raag in particular — had dealt with music, this novel deals with something else: the singer and her identity as an artist.
Sitting under a framed F.N. Souza charcoal ("That's actually something I bought quite some time ago for 20,000 rupees. I couldn't afford it now"), Chaudhuri proceeds to tell me what drove him to write a novel that ties three characters with a single thread: singing.
"Till the end of the 19th century, there were stories about ambition, about people on the make. But in today's world of globalisation and the free-market, how does someone from the middle-classes value art? And how does one define an artist?"
Shyam Lal, earns his livelihood by teaching his students mostly popular bhajans. And yet he isn't defined by his art. Instead, he is defined by his trade of teaching the art of singing. Or is he?
Mallika has her defining voice – with "its rounded full-throatedness" evoking a "golden age" that transports listeners "somehow, to an earlier, to a better time" than when the "zeitgeist was Lata's [Mangeshkar] voice, thin, small and…shrill". But even she is defined as Mrs Sengupta, the wife of a boxwalla. Or is she?
Then there is Nirmalya, Mr and Mrs Sengupta's son, growing up in the Bombay of the 70s. He turns his back against the world of his peers to discover himself in the aesthetics of shastriya sangeet. For Nirmalya, classical music is not part of a tradition. It marks his individualism. Or does it?
All this provides me with the perfect run-up to ask Chaudhuri that stupid question. But instead of asking him whether this novel is 'autobiographical', I take a more sophisticated tack. "You grew up in Bombay, rather unexpectedly turned to Hindustani classical music and then went to study in England. Nirmalya follows exactly the same trajectory. Also both your and Nirmalya's mother were trained singers married to managing directors in private companies. How much of your life do you use in your fiction?"
Chaudhuri smiles under his Beatles moptop. "I also had a hole in my heart."
As does Nirmalya in the novel!
He quickly lets me know that he had his heart surgically fixed. "When you're imagining something, it has the air of something remembered. I can't make my novels fictional as opposed to the realness of photographs. I have a deep sense of being here now."
In the real world, Chaudhuri has slowly come out of the closet as a singer. But since 2005, Chaudhuri has been at the forefront of his musical project. He describes this "experimental music" as a bringing together of Western genres like jazz, blues and rock and the Indian raag.
"In 1999, I was listening to a Hendrix blues album, when I heard a raag playing alongside it. This double hearing — mishearing, if you will — led me on." Eric Clapton's Layla welded to the Raag Todi became The Layla riff to Todi that features on his eponymous This Is Not Fusion album.
So how come the writer of such gentle gems like A Strange and Sublime Address, Afternoon Raag and Freedom Song doesn't play around when it comes to words. "Well, I have in poetry. While on a trip to Berlin I 'misheard' the word 'rioting' on television and thought it was 'writing'." His poem, 'The Writers' starts: "There has been writing for 10 days now/unabated. People are anxious, fed up./ There is writing in Paris, in disaffected suburbs,/ but also in small towns, and old ones like Lyon."
This year, Chaudhuri will be wearing another hat: as a jury member of the Man Booker International Prize 2009 that is awarded once every two years (won by Nigerian writer Chinua Achebe and Turkish writer Ismail Kadare in 2007 and 2005 respectively). "I'm looking forward to reading writers I've never read before."
Chaudhuri doesn't want to talk about whom he bet his money on in the 2008 Booker Prize stakes. Although he's vocal about being aghast about the Indian hyper-nationalism that got attached to an international literary award like the Booker. "It became a silly two-way battle between Amitav Ghosh and Aravind Adiga here. The fact that Sebastian Barry (author of The Secret Scripture) was very much in the reckoning was completely ignored simply because he wasn't an Indian."
Before I leave, I hum him an Abba tune whose chorus I think is quite 'symphonic'. (The rest of the melody is utter crap.) Neither of us can recognise the song.
It comes to me a few days later while I'm listening to Wagner's Ride of the Valkyries — Lay all your love on me.