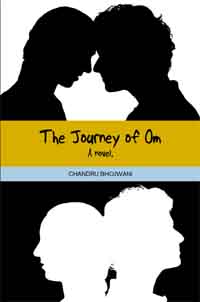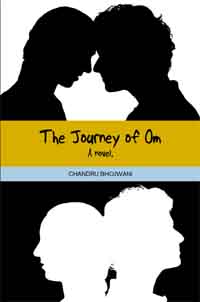 Every Man's Journey
When a book starts with an emotion, you can be sure it will be interesting. That's what I found out through The Journey of Om. Bhojwani starts his debut novel with the word "cold", and it isn't just the feeling of cold water he's talking about here – it is the chill you feel in your heart when you've lost someone/something precious to you.
'Om', also spelt 'Aum', is the most sacred symbol and syllable in many religions and communities. It represents 'Brahman', 'perseverance', 'wholeness' and a journey undertaken to reach your goals. With the protagonist of the story, too, Om's life has been a journey. Undertaken in two levels – one unto himself, delving within his mind and ideals to discover his life; and, the second, a journey to reach out to others in a bid to discover himself – it portrays Om's transformation from a dejected lover to a responsible and better human being. Once he's betrayed by his beloved, Preeti, he's on a downward spiral: the usual drinking spree, rejection, indifference to others and a general feeling of self-pity and hatred.
He finds solace by reaching out to his friends Mona, Arun and Jim for help, but only temporarily. He then realises that others, too, have their share of love, betrayal and confusion to deal with. Here, we see that instead of clinging on to his friends for his survival, Om himself becomes a rock for his friends. The ones he sought for comfort now turn to him for advice.
As days and months go by he becomes stronger and faces life without the earlier apprehensions. He becomes a very giving person: consoling his friends, lending an ear to their troubles and helping them out when needed. He's still not over Preeti; a corner of his heart will always be waiting for her. But his occupation with his friends' lives keeps her out of his mind, though only to resurface time and again.
Bhojwani's choice of words is very simple, making it an easy read. His descriptions are vivid and sometimes, witty. Tense and sorrowful situations may suddenly seem light only because of the particular words used by the author, adding positively to his distinctive style. My favourite character in the story is Sunil, Mona's friend. Not so much for his rude behaviour but because his character unravels step by step and in a corresponding manner. Bhojwani lets out each trait of his characters subtly, without disturbing the pace of the story, but by kneading them into it. The choice of cover of the book reflects deeply – a knotty line that criss-crosses the page – and indicates the plot of the story, too.
The dropping of most of the characters' surnames lends a very personal touch to the story – making the story yours and mine. What Om goes through, becomes what you and I would. Om's love becomes ours; Om's defeats in life become ours; Om's hopes become ours; Om's search for stability and being becomes ours… and so on.
Autobiographical elements of the story give it a reasonable connect with the author. Om's job as a writer, various places and events mentioned in the story, and certain passages reflecting the author's earlier works all blend well into the plot. He has been able to portray something as sorrowful as a person's betrayal and revival in a very capturing manner. An oft-repeated storyline comes alive with Bhojwani's technique of impressing readers by talking about something that each one of us would have gone through at some stage in life. Thus, making it every man's journey.
(http://www.indianbookreviews.com)
The Journey of Om is available in the UK, US, Dubai and throughout India. For more information please visit www.chandrubhojwani.com

Article viewed at: Oye! Times at www.oyetimes.com