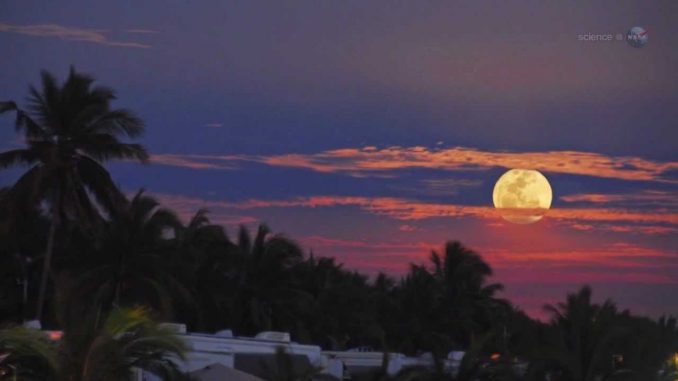 Catch the biggie-sized moon near the horizon on May 5th but watch out for the hound dog barking

I knew something magical was happening last night. When I was going to sleep, the almost full moon was streaming light through the blinds.
I opened them up and fell asleep bathed in the moonlight. When I awoke at 2:30 AM the night was alive with moonlight.
We are almost at the perigee "super moon" which will occur on May 5th – 14% bigger and 30% brighter than all the full moons this year.
The best time to catch it is around dusk when the moon rises over the horizon, which creates an optical illusion that the moon is even larger than ever. Objects in the foreground like a house or building will make the moon appear bigger.
http://www.youtube.com/watch?v=kOplwuMTyS4
However, this moon will be bigger and brighter.
It's magical to see and even more exciting as the night moves on and the moon rises in the sky, lighting up the night.
Dogs howl, cats meow into the night, people act crazy and hospital wards fill up on this night in May. It's no joke.
Moonlight and lovers
The moon also creates the mood for love with poets. In Puccini's opera La Boheme, Rodolfo serenades Mimi in the moonlight with 'O soave fanciulla'
..o dolce viso
di mite circonfuso
alba lunar
…Oh, how sweet your face looks,
its beauty softly kissed by the
gentle moonlight.
(libretto by Luigi Illica and Giuseppe Giacosa)
Gianni Raimodi- Mirella Freni: 'O soave fanciulla' from 'La Bohème'
Director Franco Zeffirelli didn't have Pavarotti for his lead but at least he put some moonlight on Mimi's face.
The hound dog barking
The full moon in spring also brings out the weird and wild. In May 1989, a drug dealer just out of jail was seen swinging a baseball bat chasing two men down Brighton Road, beating them as he ran. Pedestrians and people in their cars were shocked at the scene right out of a Hollywood Movie in Charlottetown PEI. The man was arrested later that night in a local bar. He was carrying a handgun, which is unusual for PEI, still looking for his intended victims.
http://www.youtube.com/watch?v=0hr7FLVPorw
'Bad Moon Risin' – John Fogarty
On the week of the May full moon in 2009, Conservative MLA Mike Currie punched PEI businessperson Rob MacEachern outside the PEI Legislature. Music PEI kicked me out for exposing corruption among its board members who were using the musicians grants for themselves. The government held a news conference on disability reforms that would turn out to be nothing but hot air, then awarded $500,000 to the NGO's who wrote the empty report.
Do you know of any crazy things happening that are connected to the full moon?
Be careful this week but don't miss the super-moon of 2012 on May 5th.
Related stories
Super moon tonight end of the world or just cool
NASA Perigee "Super Moon" On May 5-6
By Stephen Pate, NJN Network