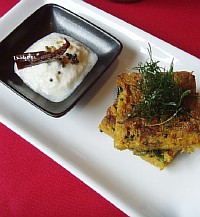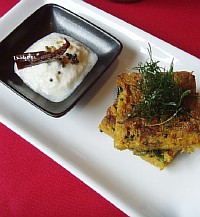 After squeezing extra moisture out of the crabmeat, serve hot with coconut chutney… Dakshini Crab Cake
Ingredients
 
White Crab Meat – 400 gms.
Garlic, finely chopped – 4 Cloves.
Red Chilli Flakes – 1 Tsp.
Mustard Seeds – 1 Tbl sp
Ghee/Oil – 2 Tbl sp
Turmeric Powder – 1 Tsp
Coriander, chopped – ½ Bunch
Salt – To taste
Curry Leaves, finely slivered – 3 Tbl sp
Potato, boiled and grated – 1 Medium size Potato
Method
1. Heat ghee/oil in a pan, add mustards seeds. As soon as they crackle add curry leaves and chopped garlic.
2. Sauté for a couple of minutes, till the garlic is golden in colour and then add red chilli flakes, turmeric power, potatoes and salt.
3. Cook the mixture while mixing well for another minute and then take it off the fire and leave it to cool.
4. Squeeze extra moisture out of the crabmeat through a muslin cloth and mix in the potato mixture.
5. Make crab cakes with the help of a mould or just make patties of your desired shape and size.
6. Cook crab cakes in a non-stick pan or griddle using very little oil.
7. Serve hot with coconut chutney.