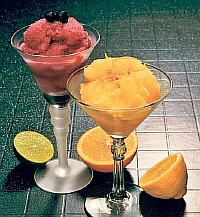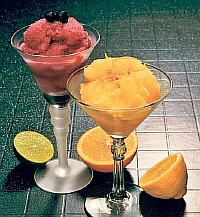 This summer give khus sherbet and mango panna a break. We suggest some cooler mocktails that are sure to help you battle the sun in style.
PICK ME UP
Ingredients : Fifteen ml passion fruit syrup, 15 ml peach syrup, 10 gm ginger (finely chopped), 250 ml watermelon juice, a dash of lime juice
Method : Mix both the syrups and pour in a glass. Add watermelon and lime juice to this and mix well. Pour in a cocktail glass with chunks of watermelon. Serve chilled.
NOJITO
Ingredients : Four lemon quarters, 5 mint leaves, 15 ml lime juice, 15 ml ginger syrup, 120 ml ale
Method : Mix lemon juice with mint leaves. Put some ice in the glass and pour ginger ale and ginger syrup over it. Garnish with mint and serve.
WHISPERING PALMS
Ingredients : One scoop vanilla icecream, 200 ml apple juice, 15 ml coconut syrup, 15 ml mint mojito syrup, 2 tbs cream, 1 tbs dried coconut, 1 tbs brown sugar
Method : Mix apple juice, coconut syrup, mint mojito, cream and vanilla ice-cream. Blend in mixer with ice. Mix dried coconut and brown sugar. Sprinkle on the glass' rim. Pour the drink and serve chilled.
PASSIONATE SUNSET
Ingredients : Fifteen ml passion fruit syrup, 150 ml orange juice, 1 bottle soda, 1 orange slice
Method : Fill the glass with some ice; pour passion fruit syrup and orange juice in it. It will form two distinct layers. Add soda and garnish with the orange slice. Serve chilled.
AMBERINE
Ingredients : Ten ml pomegranate syrup, 30 ml litchi syrup, 10 ml lime juice, 120 ml tonic water.
Method : Put four cubes of ice in a glass. Pour the pomegranate and litchi syrup. Add lime juice and top the drink with tonic water. Serve chilled. (All the fruit syrups are available in supermarket chains across the city).