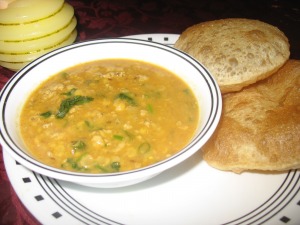 This article was last updated on April 16, 2022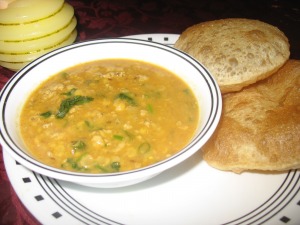 Chana Daal
Ingredients:
1 cup chana daal
7 cup water
1 tsp salt
1/4 tsp cayenne
1/4 tsp turmeric powder
1/4 tsp cumin powder
1/4 tsp corriander powder
1 tblsp tamarind pulp
1 tsp sugar
1 tblsp vegetable oil
1/4 tsp black mustard seeds
1 chopped garlic clove
Preparation:
Soak the chana daal in 4 cup water for 2-3 hours then wash and drain.
Boil 3 cups water and the salt in a pan.
Add the chana dal, cover the pan and cook over medium flame for 30 min.
Stir the dal when cooked.
Add cayenne, turmeric, cumin, coriander, sugar the tamarind pulp (skin & seeds removed).
Stir well and allow to simmer uncovered.
In a separate frying pan, heat the vegetble oil over low heat and add the mustard seeds and chopped garlic to it.
When the oil gets hot, add the oil mixture to the simmering pot of dal.
Immediately cover the pot and keep covered for 2 min. while the dal continues to simmer.
Cook chana daal uncovered for another 5 min. and the dal is ready to be served with rice or bread.
You can publish this article on your website as long as you provide a link back to this page.