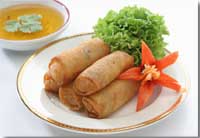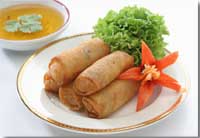 Chinese Vegetarian Egg Rolls
Makes 12 egg rolls
Ingredients:
1 tbsp. cooking oil
2 c. sm. spinach leaves
1 c. shredded carrot
1 c. chopped cabbage
1 c. chopped fresh mushrooms
1/2 c. thinly sliced green onion
1/2 c. chopped water chestnuts
1/2 c. chopped pea pods
1/2 c. chopped bamboo shoots
1 clove garlic, minced
1 tsp. grated gingerroot
1 beaten egg
2 tbsp. soy sauce
1 tbsp. rice wine or dry sherry
Dash salt
12 Egg Roll Wrappers
Cooking oil for deep-fat frying
Directions:
Preheat a large skillet or wok over high heat; add the 1 tbsp. cooking oil. Stir fry spinach, carrot, cabbage, mushrooms, onion, water chestnuts, pea pods, bamboo shoots, garlic and gingerroot for 2-3 minutes.
In a bowl combine egg, soy sauce, sherry and salt; stir in the vegetable mixture. Set aside to cool for wrapping.
Place an egg roll skin with 1 point toward you. Spoon 1/4 cup vegetable filling diagonally across and just below center of skin. Fold bottom point of the skin over the filling; tuck point under filling. Fold side corners over, forming an envelope shape. Roll up toward remaining corner, moisten point; press firmly to seal. Repeat with remaining egg roll skins and filling.
Fry egg rolls, a few at a time, in deep hot cooking oil (375°F) for 2-3 minutes or until golden brown. Drain on paper toweling. Serve warm with Sweet and Sour Sauce or Chinese mustard.