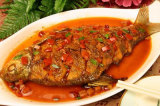 You can publish this article on your website as long as you provide a link back to this page.
This article was last updated on April 16, 2022

Poached Fresh Fish
Ingredients:
4 slices ginger root
2 scallions
1 x 1 ½ lb whole fish (cod or sea bass), cleaned
2 Chinese parsley sprigs, chopped
¼ cup oil
2 tbsps soy sauce
Directions:
Fill a large oval saucepan or fish kettle to a depth of 2 inches with water.
Add 2 of the ginger and 1 of the scallions and bring to the boil. Place the fish in the boiling water. Cover and cook for 1 minute, then turn off the heat. Leave, covered, on the top of the cooker for 8 to 10 minutes.
Meanwhile, cut the remaining scallion into 1 inch pieces and shred the remaining ginger. Drain the fish and place on a serving plate.
Sprinkle with the chopped scallion, shredded ginger and the Chinese parsley.
Heat the oil in a small pan. When it is very hot, pour over the fish. Sprinkle the soy sauce on top and serve immediately.