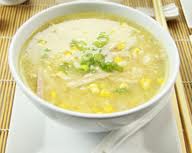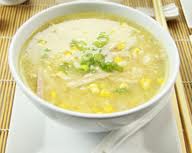 Corn Soup
Serves 4
Ingredients:
1 can corn (creamy style)
1 oz. ham
6 cups chicken stock
2 egg whites
1 chicken fillet
Seasoning:
½ tsp salt
½ tsp sugar
1 tbsp rice wine
Dash of MSG
3 tbsp cornstarch dissolved in cold water
1 tsp rendered chicken fat
Directions:
1. Remove the sinew from the chicken fillet and grind 4 times (you may mince with a knife). Add the egg whites little by little and mix.
2. Chop the ham finely.
3. Bring the chicken stock to boil in a pan, add the corn and cook for 3 to 4 minutes. Remove the scum and season with the seasoning ingredients. Pour in the cornstarch dissolved in water to thicken. Stir with a ladle adding the minced chicken fillet gradually.
4. When the chicken is cooked, drop in the rendered fat and pour in the content into a soup bowl. Drop in the shredded ham in the center of the bowl.